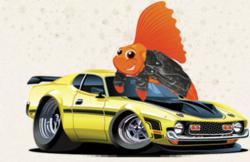 These ratings show the amount of political and economic risk associated with investing in a country abroad or its foreign currency.
New York, NY (PRWEB) April 25, 2013
RoadFish.com men's lifestyle and finance magazine issued their observations and condolences regarding Britain's fallen credit rating, reduced from AAA to AA+ by Fitch last week. RoadFish.com offered words of hope and reassurance to the nation whose biggest question mark, according to Fitch annalist David Riley, "is the economic recovery."
Reuters reported that Fitch Ratings, one of the largest credit rating agencies in the world responsible for ranking sovereign credit, downgraded Britain from its perfect AAA rating to a AA+, still a high grade but not the perfect score that the nation has enjoyed for many years. Reuters does state that Moody's had bumped Britain's rating down to the same back in February, however unlike Moody's, Fitch ranked Britain as having a "stable" outlook going forward.
RoadFish.com clarifies for consumers what a sovereign credit rating consists of, and likens it to a consumer credit score. RoadFish.com's Senior staff writer is quoted as saying, "Much like we as consumers have a credit score which measures our trustworthiness in paying back debt, national administrations are given sovereign credit ratings. These ratings show the amount of political and economic risk associated with investing in a country abroad or its foreign currency. It's much the same as, say, a bank checking out my credit score if I applied for a loan with them to see how risky of a borrower I am. Investing countries check each other's sovereign credit ratings to determine whether it's wise to invest in or with them. The fact that Britain's credit rating has dropped is bad news, although their credit rating is still incredibly high."
The above-mentioned Reuters article quotes Fitch analyst David Riley as saying, "The biggest question mark that continues to hang over the UK is the economic recovery." Riley's outlook is a positive one though, as he relays to Reuters that Fitch's forecast for British growth is that it will climb economically to where it has been within the next two years. Riley warned that it's a bit early to be sure that this is the case, but he's hoping that Great Britain will escape the situation the Japanese ran into with their credit being stagnant for over a decade. Riley stated, "If it's more of a Japan scenario, then the UK rating would come under pressure again. But from our perspective it is too early to make that call."
RoadFish.com's Senior staff writer is quoted as saying, "I feel for my friends and associates in the United Kingdom. They are experiencing trials with their economy, and as the U.S. knows well, that is challenging on a political and personal level for everyone. What I would like to relay to them today though is that I view Great Britain as one of the most honored, venerable and united countries in the world and I just know that they will recover from this. The credit rating downgrade will be a temporary thing, and their economy—and credit rating—will be back and stronger than ever before. Stay strong, Britain."
Reuters stated that the International Monetary Fund believes that Britain's deficit reduction may be unnecessarily damaging economic growth, but Fitch's Riley reassured Reuters that the severity of Britain's situation is not exceedingly unlike many other European countries.
About RoadFish.com:
RoadFish.com is an online magazine geared for successful men in their 30's and 40's who enjoy seeking out and accomplishing new goals. RoadFish.com's topics of interest include men's fashion, luxury items, hot chicks and the top online dating websites. RoadFish.com's financial articles covers topics from debt management to budgeting to short sales versus home foreclosures. RoadFish.com is owned and operated by Purpose, Inc.