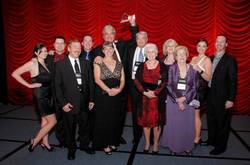 All Aboard America!'s success is a direct result of over 190 professionals who dedicate themselves to our valued customers each day, providing a travel experience that will exceed accepted standards through safety, value and trust... - Jack D. Wigley
Mesa, AZ (PRWEB) February 15, 2011
All Aboard America! is the prestigious winner of the eighth UMA Vision/Large Operator Award, presented in Tampa, FL, at the United Motorcoach Association (UMA) Expo, January 21, 2011. Candidates are nominated by their industry peers, and are recognized for their sound business practices, dedication, innovation in marketing, operations, customer service, and ability to raise the standards for the motorcoach industry overall. The recipient of this prestigious award must also have an exceptional safety record, maintain its fleet of 15 or more coaches to the highest standards, and be a good corporate citizen to its community.
President and CEO, Jack D. Wigley, who accepted the award on behalf of the company was recognized as someone who employs "servant leadership" which emphasizes the leader's role as a steward of all the company resources.
"All Aboard America!'s success is a direct result of over 190 professionals who dedicate themselves to our valued customers each day, providing a travel experience that will exceed accepted standards through safety, value and trust," noted Wigley.
The company has a distinguished history dating back to 1936 when Henry Page formed the Potash Mines Transportation Company to transport potash miners to and from jobsites in Southeast New Mexico. The company became known as Industrial Bus Lines, Inc. when it expanded into West Texas and Arizona in 1971. In 1983, the Midland/Odessa, Texas division was created to serve area schools, churches and universities with charter services and daily runs to San Angelo and Presidio, Texas. Successful acquisitions and expansion added locations in Midland/Odessa, and El Paso, TX; and Phoenix, AZ; and in 2003, the company returned to its roots when a Santa Fe division was added to provide 100+ daily routes for commuters and residents of North Central and South Western New Mexico. Due to its continued expansion, Wigley renamed the company, "All Aboard America!" to reflect its wide array of services and locations.
Today, All Aboard America! is a major player within the motorcoach industry, operating a fleet of more than 90 motor coaches throughout the Southwest, Mexico and North America, thanks to Wigley's ongoing vision and leadership, his dedicated employees, and many satisfied customers.
ABOUT:
All Aboard America! is a third generation, family-owned business since 1936, headquartered in Mesa, AZ, and is Arizona's largest tour and charter company, with a fleet of more than 90 fully equipped late model mini and full size motorcoaches that provide transportation throughout the scenic Southwest, Mexico, and North America. The company employs "green" practices in its daily business practices and is committed to protect the environment and preserve its precious natural resources. ALL ABOARD AMERICA! is the proud recipient of the 2006 IMG Operator of the Year Award, 2005 UMA Motorcoach Industry Achievement Award, and 2011 UMA Vision/Large Operator Award. For additional information visit: http://www.allaboardamerica.com
Jack D. Wigley, of All Aboard America! is also a founding partner and Vice Chairman of the Motorcoach Council, an industry-wide initiative to elevate public awareness, shift perception of the motorcoach industry, and increase ridership. Wigley was one of the "Green Operators" to launch the grassroots initiative in 2007, and proudly participates in all campaign initiatives today, including the use of campaign bus wraps to promote the many benefits of motorcoach transportation. For additional information, visit http://www.MotorcoachCouncil.org and http://www.GetMotorcoachified.com.
# # #