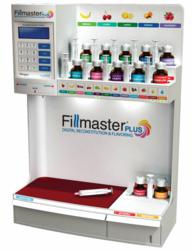 Children and parents can choose the flavor of any liquid prescription or OTC medications they are picking up at United Supermarkets
Lubbock, Texas (PRWEB) October 31, 2011
United Supermarkets, LLC, the Texas-based operator of 43 pharmacies under the United Supermarkets, Market Street and Amigos United banners, and FLAVORx, makers of medication flavor choice and taste improvement systems, have agreed to terms on a chainwide rollout of the new Fillmaster Plus dispensing technology.
"United Supermarkets is making a strong statement with its investment in the Fillmaster Plus," said Stuart R. Amos, President & CEO of FLAVORx. "It says a lot about the company's commitment to improving not only the lives of its customers, but of its employees behind the counter as well."
The Fillmaster Plus combines the unique aspects of what Fillmaster Systems and FLAVORx offer into a leading-edge piece of pharmacy equipment. With the new device, pharmaceutical reconstitution, which in many cases is a manual process, is now accomplished by United Supermarket pharmacy staff at the push of a button. When a prescription bottle is scanned using the Fillmaster Plus, the unit instantly displays the medication's name, volume, strength and the amount of purified water it needs for reconstitution. This process reduces the risk of dispensing errors. At the same time, reconstitution is accomplished in a matter of seconds, for extremely efficient workflow.
In addition, the Fillmaster Plus technology gives pharmacy team members the ability to customize the taste of liquid medication quickly and easily. Children and parents can choose the flavor of any liquid prescription or OTC medications they are picking up at United Supermarkets. This has a very positive impact on prescription compliance, or how well a person, in this case a child, sticks with the medication directions as prescribed by the doctor.
About United Supermarkets
Now in its 95th year of operation, United Supermarkets, LLC, is a Texas-based, family-owned grocery chain with stores in 30 markets across north and west Texas. A self-distributing company with its headquarters in Lubbock and distribution centers in Lubbock and Roanoke, United currently operates 51 stores under four distinct formats: United Supermarkets, Market Street, Amigos United and United Express.
About Fillmaster Systems
Fillmaster Systems is a provider of pharmaceutical water purification & reconstitution products. Since 1992, they have been dedicated to quality, reliability, accuracy and integrity. Today, Fillmaster Systems advanced technology has made them a leader in pharmaceutical water purification & reconstitution in the United States and around the globe.
About FLAVORx
Since 1994, FLAVORx has been improving medicine-time for children and parents by giving them a choice of how the medicine will taste. Using FLAVORx's copyrighted flavoring recipes, pharmacists have safely flavored over 47 million prescription and over-the-counter medications for children, making it easier for them and their parents to deal with the stresses of being sick. For the latest company news, follow FLAVORx on Facebook.
# # #