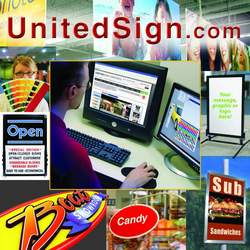 "Now, with our customers' help at UnitedSign.com, we can give anyone throughout the nation and world the opportunity to obtain signs for their industry or business at very competitive rates."
Muskegon, MI (PRWEB) June 30, 2010
United Sign, a leading supplier of signs and graphics for convenience stores, gas stations, car washes, camp grounds, resorts, casinos, marinas, hospitals and restaurants has enhanced their web site with direct input from their customers, according to the company's president.
John Carrier, president of United Sign, said the new website, UnitedSign.com, offers customers an easy means to buy stock and custom signs for their business needs.
"We have been customizing signs in Michigan for more than 30 years," says Carrier. "Now, with our customers' help at UnitedSign.com, we can give anyone throughout the nation and world the opportunity to obtain signs for their industry or business at very competitive rates."
UnitedSign.com helps businesses to promote their products and services with items such as back-lit displays, parking signs, gas pump decals, even facility maintenance products. UnitedSign.com utilizes in-house resources and it's partner network to complete the most demanding project or to fulfill the most creative initiative. According to Carrier, their professionals consider your work to be their craft.
"Signs and graphics are our only business, so we take every job, whether large or small, very seriously," says Rick Bogue, National Sales Manager. "We work with large corporations as well as single store locations with the same commitment to quality and cost-effectiveness."
The company offers product such as:

Decals
Sign frames and hardware
Waste containers
Flags, pennants and thousands of other sign-related products
A myriad of high-end digital and 3-Dimentional custom signs
After thorough research and development, the United Sign team discovered, through direct and indirect contact with existing customers, that users wanted a more organized way to quickly find the signs and graphics that they needed, so they completely re-tooled their website.
"We conducted a deep survey of United Sign customers and frankly, discovered our website needed to be more user friendly," says Crystal Stone, Customer Service Manager. "We found out that users wanted an easier way to find their signs and graphic needs on the web. We created UnitedSign.com with an eye toward easy account management and a way to help all of our customers to buy online."
Customers may now manage their on-line accounts and even place repeat and duplicate orders online by logging in with their unique account information. This, says Stone, will make it much faster for their customers who order the same product frequently.
United Sign offers a wide range of standard and custom signs to serve everyone from small, local businesses to multinational corporations at UnitedSign.com or by calling 800-821-6530.
###