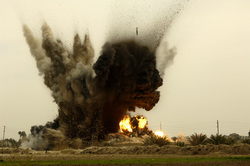 Zambraniyah, Iraq (Vocus) March 12, 2008
A B-1B Lancer aircrew destroyed an al-Qaida torture compound and prison with six guided bomb unit-38 Joint Direct Attack Munitions at 2:07 p.m. March 10 in Zenbaraniyah.
The bombing marked a change of fortunes for the village, where local villagers began standing up to the terrorists a little more than a month ago in the former al-Qaida hotbed south of Baghdad.
The 500-pound-class Global Positioning System-guided bombs struck the torture compound in a coordinated effort with Multi-National Division - Center officials and Iraqi forces.
"This (airstrike) removes the last remnants of al-Qaida from this area," said Army Lt. Col. Mark Solomon, the 6th Squadron, 8th Cavalry Squadron commander.
The compound consisted of three buildings along with several small shelters near the back of the compound. The facilities had been used for torture, with handcuffs hooked to the walls with bare wires plugged into outlets nearby. Several of the walls were blood splattered. There were also several interrogation manuals Soldiers found when they captured the compound.
One community member, who escaped from the facility, said it was a new day for the village as he looked into the bomb's craters.
"We all feel good," Aubid Abdalla said. "It's a dark past that is gone."
Mr. Abdalla, a former Iraqi army intelligence officer, was encouraging local citizens to give coalition efforts a chance, when he was kidnapped. He spent 15 days in the facility and saw a young boy and an old man killed while he was held prisoner.
Less than an hour afterward, after the B-1B's precision deliveries destroyed the al-Qaida torture facilities, Mr. Abdalla said the event had changed him.
"I'm a lot happier now," he said. "It was like my mother gave birth to me again."
Senior Airman Joseph Aton, a joint terminal attack controller assigned to Fort Hood, Texas, directed the final clearance in the B-1B's deliberate JDAM weapons delivery process.
"It was great to be part of this," Airman Aton said. "You can tell the people were happy to have this place gone and it was awesome to make a difference for them."
The effort was a joint effort between officials from the Multi-National Division-Center, the Combined Forces Air Component commander's Combined Air and Space Operations Center, the 9th Air Expeditionary Task Forces Air Expeditionary Wing, which flies the B-1B in the area of responsibility and Sons of Iraq, who helped provide security.
As coalition forces left the area, villagers stood on the side of the road cheering and clapping to be rid of this remnant of al-Qaida.
For more information please contact:
Combined Air and Space Operations Center, Al Udeid Public Affairs, Media Engagement
Comm: 011-974-458-9555 then ask for 436-4314
http://www.afcent.af.mil
# # #