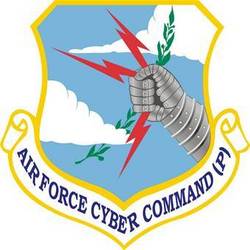 Barksdale Air Force Base, LA (Vocus) March 14, 2008
The work of building Air Force Cyber Command continues with officials releasing details of what the scope of the command will look like and how it will function in lieu of having a permanent base named for its headquarters location.
"We are aggressively moving forward with plans for having initial operations capability by the Oct. 1 deadline mandated for us by the Secretary of the Air Force," said Maj. Gen. William T. Lord, AFCYBER (Provisional) commander. "That (IOC) means we will have a portion of the staffing we need and the organizational structure in place to continue to build the command until we reach full operational status."
Conditions for initial operations capability include, but are not limited to, establishing a budget, articulating details of organizational realignments, developing and assigning manpower requirements, and establishing policies and procedures for daily operations. Many of these details are either still being defined or are under review.
Distributed command, interim location
Normally, having a permanent location is also part of IOC requirements. However, the SECAF has directed the command headquarters to function at Barksdale Air Force Base, La., in the interim.
HQ AFCYBER is authorized 541 positions to carry out its mission, and officials are planning to organize the command under a distributed command concept, whereby those positions will be spread across numerous bases.
As Secretary of the Air Force, Michael W. Wynne, explained on Capitol Hill recently, "We've asked [the command] to become virtual. In other words, we've said, we don't want you to be a standard … command as you might see from the Napoleonic era. …We asked them to look [into commercial] companies [to] see how they operate and minimize the headquarters. … [Many of our units are] already located in the various states around the country, so our first inclination is to leave those in place."
The AFCYBER provisional team is still determining the exact numbers, and details of what this staffing will look like, who will be assigned to the command and from where those resources will originate.
"We're looking at what's the best, most feasible way to operate this command, so we're obviously doing what we in the AF do best -- adapt and overcome," said General Lord. "We have to move on with getting this command established, and we can do that without a permanent location at this point. That's why one of our options is this idea to operate as a virtual community for awhile. Most of the units and people conducting the missions are already in place and can be easily reassigned to cyber duties without having to move. We live in a time where technology makes operating 'virtually' possible … and practical. But, let me be clear that we're still exploring all our options, and even this option may change. There are still many questions and details that need to be answered, but this what we're working toward right now."
How the command will be structured
The proposed organizational structure of the command calls for a headquarters, a Numbered Air Force, to be designated as 24th Air Force, and then four wings with more than 65 squadrons assigned to those wings collectively, to include units from the Reserve and Air National Guard.
The headquarters will oversee the Air Force Network Operations Center and through the NAF, will command an Air and Space Operations Center. These functions serve to set policy, enforce standards and guide the rest of Air Force in its daily cyberspace operations.
There will be four wings within AFCYBER to include the creation of a new Electronic Warfare Wing and a new Cyberspace Wing. Joining the new wings will be the Air Force Information Operations Center, located at Lackland AFB, Texas, which will be re-designated as the 688th Information Operations Wing. Finally, the 67th Network Warfare Wing, located at Lackland AFB, Texas, will round out the command.
The 450th Electronic Warfare Wing will consist of various electronic attack and protection units, and well as have operational input for the EC-130J and EA-6B aircraft and flying missions. Part of the EC-130J aircraft's mission is to essentially provide an electronic shield around ground forces that deny the enemy the ability to use many of their technological assets against them. The EA-6B aircraft has the ability to jam hostile radar and communications.
The 689th Cyberspace Wing will consist of primarily communications and information functions and various deployable communications capabilities. This wing will assume functions performed currently by the Air Force Communications Agency, located at Scott AFB, Ill., and the Global Cyberspace Innovation Center, located at Langley AFB, Va. Those two organizations will then deactivate when AFCYBER declares IOC.
Establishing the two new wings will require the same basing process as the headquarters has undergone, but until then they will operate at interim locations as well. Plans call for the EWW interim location to be at Lackland AFB and for the CW to be at Scott AFB. Details about the structure and manning of these units are still under review.
Still working details
Working these details has been the task of 160 members of the provisional staff, who have been working since September to chart the command's course to IOC.
"We have a lot of smart people looking at how to proceed. Ideas are great, but then we have to follow through . . . so we've been very flexible in how we've approached our many challenges," said General Lord. "We're making history, and the USAF has not stood up a command like this, in this way, ever. So, we are being extremely careful and thoughtful in how we move forward on this to ensure we do this right. Some of these things may change, but this is what we're looking at right now."
Once IOC is declared, the new team will then continue to work to bring the command to full operational capability, which may take another full year to complete.
###