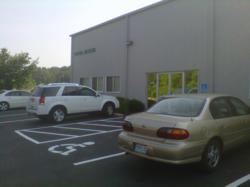 Sunset Hills, MO (PRWEB) June 21, 2011
United Access, a long-time leader in the mobility industry, has today announced the opening of a second dealership location in the St. Louis, MO, area. United Access is dedicated to ensuring customers have the best access to handicap vans, wheelchair lifts and other needed mobility equipment, and with their second location, this is more possible than ever before.
The new United Access dealership is located near I-270 and Gravois within south St. Louis County. The decision to locate the new dealership here was made in order to ensure that United Access customers in the south were able to enjoy easy access to the mobility solutions required to enhance their quality of life.
United Access' second location will offer the same top-quality wheelchair vans, wheelchair lifts, mobility scooter lifts and other high-tech driving equipment as the original location in St. Louis. Customers will be able to choose from handicap vans such as the fully equipped VMI-modified Honda Odyssey, as well as other top sellers in the industry, such as the Toyota Sienna. Of course, United Access also offers the vaunted 2011 Dodge Grand Caravan, fully equipped with conversions from industry leaders like Vantage Mobility International, BraunAbility and El Dorado National.
United Access would like to invite all customers in south St. Louis County to stop by the new location and find out how simple and easy it can be to meet any mobility needs today. From new handicap van sales to parts and service, United Access offers their customers and partners a one-stop solution for all their needs.
To find out more about the new location, as well as the wheelchair vans and other solutions offered by United Access, visit http://www.UnitedAccess.com.
About United Access: United Access has been providing the latest in adapted vehicles, driving systems and services for over 30 years. They are a member of the National Mobility Equipment Dealers Association and a nationally accredited Quality Assurance Program (QAP) dealer with nine locations across the Midwest and Mid-South. They are committed to giving back to the communities they serve through volunteer time, event sponsorships and donations.
###