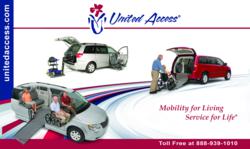 Peoria, IL (PRWEB) May 22, 2012
United Access, one of the Midwest and South's most respected wheelchair van and mobility equipment providers, has today announced their 10th location will be opening in Peoria, Illinois. United Access continues to grow, and the new Peoria location will enable the company to provide even more people with access to handicap vans and mobility equipment to foster greater freedom, independence and a higher quality of life.
United Access and Personal Mobility will offer the most comprehensive array of automotive adaptations in the region, and will be the most complete mobility center available to individuals with physical handicaps in central Illinois. Building on United Access' mission of "Mobility for Living, Service for Life", the new location will offer customers access to the most advanced handicap vans from top name automotive manufacturers, adaptive solutions from nationally leading companies like VMI, Braun and Viewpoint, as well as groundbreaking adaptive automotive technology, including innovative hand control systems, wheelchair ramps, suspension lowering systems and more.
Of course, the new location will offer more than equipment and adaptive vehicle sales. The company's mission includes "Service for Life," and they strive to live up to all that implies. Customers will benefit from a comprehensive service department staffed by fully certified mobility technicians capable of servicing both automotive and adaptive systems. In addition, customers will be able to find advice and information about new handicap vans, equipment for improving independence and freedom, and much more.
United Access is proud of their track record of success, and their dedication to providing their customers with the most advanced solutions to mobility needs, and looks forward to better serving customers in central Illinois.
To find out more about wheelchair vans or mobility equipment, visit the company at http://www.UnitedAccess.com.
About United Access: United Access is an industry-leading provider of new and used wheelchair accessible vans, wheelchair van rental, scooter lifts, hand controls, mobility seats and transfer seats, wheelchair ramps and other adaptive equipment. United Access has been serving the community for over 30 years, serving customers in Missouri, Illinois, Kansas, Tennessee, Kentucky, Arkansas, Mississippi and Texas with 10 convenient locations. We strive to provide the best customer service experience, period. Visit us at http://www.UnitedAccess.com today!