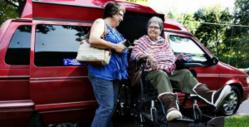 Memphis, TN (PRWEB) August 16, 2012
United Access, one of the nation's most respected providers of mobility solutions for individuals with physical disabilities, has given a Tennessee woman the gift of freedom after the theft of her wheelchair lift.
Christy Talley, a resident of the Memphis area, was the victim of auto theft in June of this year. Her Plymouth Voyager was stolen out of her driveway, along with the wheelchair lift attached to the van. Talley used the van and lift to transport her mother in and out of the nursing home, as well as to visit family – Talley's mother was left with one side of her body paralyzed after a stroke.
The van was later recovered, but the mini-vangater wheelchair lift was missing. Authorities stated the thieves most likely sold the lift for scrap, netting them about $50 at the most, while the true value of the stolen item was over $5,500.
When the story reached the staff at United Access of Memphis, they realized that they had the chance to do something good for the community. Justin Searcy, a United Access Mobility Specialist and General Manager Bill Schwam began working with the Braun Corporation to determine what could be done about a replacement for Talley and her mother.
United Access was able to deliver and install the new lift just in time for Talley's mother's 82nd birthday. The staff at United Access even signed the lift, to Talley's delight.
United Access is very proud to be able to give something back to their community. While providing a new mini-vangater lift does not remove the violation of the original theft, Christy Talley and her mother are once more able to enjoy the freedom and mobility they deserve.
To find out more about United Access, their handicap accessible vans or their annual vacation giveaway, visit the company at http://www.UnitedAccess.com.
About United Access: United Access is an industry-leading provider of new and used wheelchair-accessible vans, wheelchair van rental, scooter lifts, hand controls, mobility seats and transfer seats, wheelchair ramps and other adaptive equipment. United Access has been serving the community for over 30 years, serving customers in Missouri, Illinois, Kansas, Tennessee, Kentucky, Arkansas, Mississippi, New Mexico, Oklahoma and Texas with 12 convenient locations. We strive to provide the best customer service experience, period. Visit us at http://www.UnitedAccess.com today!