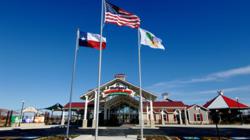 St. Louis, MO (Vocus/PRWEB) April 07, 2011
United Access is now giving away a trip to Morgan's Wonderland in San Antonio as part of a special company promotion. The contest has been running since February 1, 2011 and will finish April 30, 2011. That leaves only one month for customers to enter.
The trip is a four-person trip to Morgan's Wonderland, San Antonio, and also includes other amenities like plane tickets, wheelchair van rentals, park admission, and a tour of the nearby Alamo and Riverwalk. All expenses are paid for four guests, including food and drink accommodations. There is also a "basket of goodies" included with the winning prize.
The winner will be drawn on the first of May and then notified by the end of the month. Customers must fill out a form at an official United Access location or on the Face Book fan page. Morgan's Wonderland is a world first—an amusement park created with wheelchair-bound guests in mind.
United Access' generous giveaway surprises no one who has purchased from the company or worked for the company before. United Access recently won a Braun award for outstanding customer service for the 2010 year. The company also employs many disabled individuals or individuals with disabled family members.
The company's warranty-covered financing contract has certainly impressed disabled motorists. United Access is now offering contracts up to 10 years and warranties up to seven years or 100,000 miles with zero deductibles on handicap vans. The dealership also offers trade-ins and pre-owned vehicles, so that practically every customer can be accommodated.
Since 1971, the company has provided industry-leading service, offering wheelchair lifts, wheelchair vans, driving systems, scooter lifts, hand controls and other custom-made vehicle modifications. With its giveaways, customer-friendly financing terms and impressive 2011 inventory, it's no wonder United Access is recognized as one of the top ten mobility dealers nationwide.
About United Access: United Access serves disabled communities in southern states like Arkansas, Kansas, Illinois, Indiana, Mississippi, Missouri, Oklahoma, Tennessee and Texas. The company works with brand name conversion manufacturers like Braun, VMI and Eldorado.
# # #