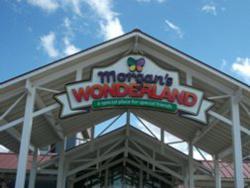 This is such a blessing and Macie is so excited.
St. Louis, MO (PRWEB) May 24, 2011
United Access has chosen a winner for their accessible trip to San Antonio, TX to visit Morgan's Wonderland accessible theme park. Brenda Greene is the winner of the 3 day, 2 night trip. Brenda and her family live in Oklahoma City, OK and are thrilled to have won the trip. Their seven year old daughter, Macie, has Rett Syndrome and utilizes a wheelchair. She can't wait to go play at Morgan's Wonderland.
Brenda entered online through http://www.UnitedAccess.com and was very active on the United Access Facebook fan page. She gained several entries into the contest by joining in the discussions on the fan page. They will be heading to San Antonio, TX in June to enjoy their vacation. Their flights, 2 nights hotel stay at the Emily Morgan Hotel, admission to Morgan's Wonderland, visits to the Alamo and the Riverwalk are all included, as well as gift cards to cover meals and a camera to capture all the fun! Brenda couldn't wait to tell everyone on Facebook that she won the contest, she wrote "We just won a trip today from United Access to take Macie to "Morgans Wonderland" in San Antonio, Texas. This is such a blessing and Macie is so excited". We are excited to see the pictures! Congratulations to Brenda Greene and her family. Check out http://www.UnitedAccess.com and sign up for the e-newsletter for other promotions and contests throughout the year.
To find out more about the mobility equipment, wheelchair vans and other solutions offered by United Access, visit http://www.UnitedAccess.com.
About United Access:
United Access has been providing the latest in adapted vehicles, driving systems and services for over 30 years. They are a member of the National Mobility Equipment Dealers Association and a nationally accredited Quality Assurance Program (QAP) dealer with nine locations across the Midwest and Mid-South. They are committed to giving back to the communities they serve through volunteer time, event sponsorships and donations.
# # #