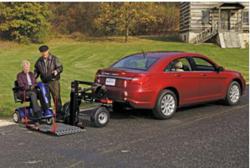 St. Louis, MO (PRWEB) December 14, 2011
For individuals who utilize a wheelchair or scooter, getting where you want to go can often be a challenge. For individuals who own a small or mid-size vehicle, options for transporting their mobility device have been limited or non-existent. But not anymore!
Bruno Independent Living Aids, Inc, a global manufacturer of accessibility products designed to enhance the lives of those challenged by limited mobility, has just released a revolutionary new vehicle lift called the Chariot. The Chariot is a trailer-type lift that attaches to a class I or II hitch and has swivel wheels, so it will never jackknife. It goes where the car goes and holds up to 350lbs. What does this mean for individuals in need of transportation for their wheelchair or scooter? Well, unlike a lot of the other lifts, the Chariot can be pulled by almost any vehicle! This means cars that had no lift application available for them before, can now have the Chariot lift installed. People no longer have to trade their small or mid-size cars in for vans, minivans or SUVs in order to transport their mobility devices!
The Chariot was just released at the beginning of December, and United Access has one of the first demo units in the country! We are very excited to offer this new option for our customers. If you are interested in more information about the Chariot lift or other lift options, or would like to view a demonstration, please contact a Mobility Specialist at (877)503-9399 or visit http://www.UnitedAccess.com.
###