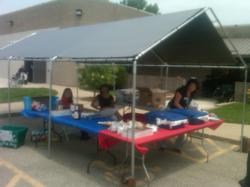 Springfield, IL (PRWEB) July 21, 2011
United Access, one of the nation's preeminent wheelchair van and mobility equipment dealers, has announced their recent Open House was a considerable hit with customers, as well as with staff members and vendors.
The Open House was held at United Access' Springfield, IL, location, and saw an immense turnout. In all, more than 200 people came out to the event, despite the hot weather. On site, visitors enjoyed food and drinks, as well as many fun, educational exhibits. Of course, the highlight of the Open House was the selection of handicap vans that United Access has to offer, as well as other innovative mobility solutions for individuals with physical handicaps.
Representatives from leading handicap van conversion companies were present, including those from VMI, Eldorado, Bruno and BraunAbility. Mobility products from many other companies were also showcased, including Conquest, Goshichi, EMC and several other top manufacturers in the industry.
However, perhaps the most moving portion of the Open House was when a customer who had previously been seriously injured in a motorcycle accident climbed aboard the Conquest Wheelchair Motorcycle and took it for a test drive – and loved every minute of it. The Conquest is an innovative 3-wheel design that allows individuals with physical handicaps to enjoy the freedom and independence of riding a motorcycle on their own once more.
The Open House was held from June 10 through June 11 and provided a fun, learning experience for customers interested in regaining their freedom and increasing their quality of life through a handicap van, wheelchair lift or other mobility equipment.
To find out more about the wheelchair vans and other mobility solutions offered by United Access, visit http://www.UnitedAccess.com.
About United Access: United Access has been providing the latest in adapted vehicles, driving systems and services for over 30 years. They are a member of the National Mobility Equipment Dealers Association and a nationally accredited Quality Assurance Program (QAP) dealer with nine locations across the Midwest and Mid-South. They are committed to giving back to the communities they serve through volunteer time, event sponsorships and donations.
###