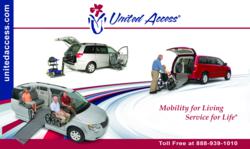 El Paso, TX (PRWEB) June 20, 2012
United Access, a nationally recognized leader in the mobility equipment and wheelchair van industry, has today announced they have acquired New Horizon Vans, LLC, expanding the company's service area into El Paso, Texas and Albuquerque, New Mexico.
This acquisition marks the 11th and 12th United Access locations. The company has been serving the needs of individuals with disabilities for over 30 years, and other United Access locations include St. Louis North, St. Louis South, Columbia, MO, Lenexa, KS, Memphis, TN, Peoria, Springfield and Champaign, IL, and Dallas, TX.
New Horizon Vans earned a reputation for providing excellent customer service combined with innovative, cutting-edge mobility solutions and United Access looks forward to maintaining that tradition of great value, superior work and providing the best possible customer experience.
United Access would like to invite area residents to visit their two new locations at 3825 Osuna R. NE-Suite 1, Albuquerque, NM 87109 and 50440A Doniphan Dr., El Paso, TX 79932. The company is excited to welcome residents and continue their long tradition of giving back to the local communities they serve.
Both new locations will offer area residents access to the highest quality mobility equipment and the latest innovations in handicap vans, including models from today's top automakers like Toyota, Honda and Chrysler. In addition, United Access is dedicated to providing customers with access to wheelchair conversions from industry leaders like VMI, Braun and Viewpoint, as well as state of the art wheelchair lifts from Bruno and Harmar.
To find out more about the wheelchair vans or mobility equipment on offer, visit the company at http://www.UnitedAccess.com.
About United Access: United Access is an industry-leading provider of new and used wheelchair-accessible vans, wheelchair van rental, scooter lifts, hand controls, mobility seats and transfer seats, wheelchair ramps and other adaptive equipment. United Access has been serving the community for over 30 years, serving customers in Missouri, Illinois, Kansas, Tennessee, Kentucky, Arkansas, Mississippi, New Mexico and Texas with 12 convenient locations. We strive to provide the best customer service experience, period. Visit us at http://www.UnitedAccess.com today!