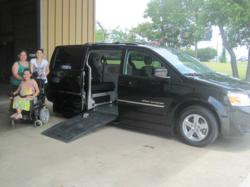 El Paso, TX (PRWEB) July 19, 2012
United Access, a nationally respected provider of wheelchair vans and mobility equipment, is pleased to announce the Martinez family from Mesquite, Texas, won the company's second annual dream vacation giveaway.
The contest was conducted through the United Access Facebook page, and ran from February 1 through April 30, 2012. This makes the second year in the row that United Access has had the privilege of sending a lucky family to San Antonio and Morgan's Wonderland.
The company understands just how difficult it is for families with a disabled person to travel. Not only is it difficult to find travel options to suit the needs of individuals with physical disabilities, but it is a challenge to locate destinations that are accessible. To help reduce these problems and give one lucky family their dream vacation, United Access has offered this annual trip giveaway for two years running and plans to continue the tradition in the future.
The trip included four round-trip airline tickets as well as hotel accommodations and the use of a wheelchair van during their stay. In addition, the trip also included a trip to the Alamo, to the famed River Walk in downtown San Antonio and even spending money for the family during the trip.
However, the real highlight of the vacation is admission to Morgan's Wonderland, the world's first ultra-accessible theme park. Morgan's Wonderland offers an amazing wealth of activities, rides and attractions, all of which are geared for people of every ability level to enjoy.
United Access is immensely proud to have been able to give the Martinez family a dream vacation, and looks forward to helping another family next year.
To find out more about United Access, their handicap accessible vans or their annual vacation giveaway, visit the company at http://www.UnitedAccess.com.
About United Access: United Access is an industry-leading provider of new and used wheelchair-accessible vans, wheelchair van rental, scooter lifts, hand controls, mobility seats and transfer seats, wheelchair ramps and other adaptive equipment. United Access has been serving the community for over 30 years, serving customers in Missouri, Illinois, Kansas, Tennessee, Indiana, Arkansas, Mississippi, New Mexico and Texas with 12 convenient locations. We strive to provide the best customer service experience, period. Visit us at http://www.UnitedAccess.com today!