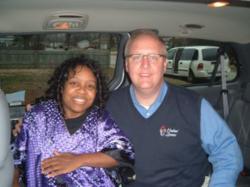 Champaign, Illinois (Vocus/PRWEB) March 17, 2011
United Access, a respected provider of wheelchair vans and mobility solutions, has donated a handicap van to a Champaign, IL, woman suffering from multiple sclerosis.
Kimberly Muhammad, the mother of four children, has suffered with MS for several years. Once, she was active in her children's lives, worked several jobs and was able to lead a vigorous, active life. When her MS became too bad, she lost the ability to drive. Soon thereafter, she became confined to a wheelchair. Muhammad only left her home 13 times during 2010, most of which were to visit her doctor.
Kimberly experienced what many other individuals with physical disabilities have – life simply stopped as her disease progressed. She was no longer able to participate in her children's activities outside of the home. Kimberly persevered, though – she has been pursuing a master's degree through an online college.
She tried to purchase a wheelchair van from United Access in 2009, but the price was simply too great for her. Nevertheless, the general manager of the Champaign United Access dealership suggested she apply for the company's Cars for Christmas program. However, due to severe winter weather, the program results were delayed this year – Kimberly had no idea that she had won.
United Access delivered the wheelchair van directly to Kimberly's house early this month. She was so moved and so surprised that she shook all over. This was the first time that her family had been able to have a vehicle capable of transporting her wheelchair or her mobility scooter, making it possible for Kimberly to once again enjoy the active life she once did and become involved with her children's activities once more.
To find out more about the mobility equipment, wheelchair vans and other solutions offered by United Access, visit http://www.UnitedAccess.com.
About United Access: United Access has been providing the latest in adapted vehicles, driving systems and services for over 30 years. They are a member of the National Mobility Equipment Dealers Association and a nationally accredited Quality Assurance Program (QAP) dealer with nine locations across the Midwest and Mid-South. They are committed to giving back to the communities they serve through volunteer time, event sponsorships and donations.
###