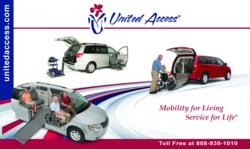 St. Louis, MO (PRWEB) November 28, 2012
Jerry Vickers of Dallas is living with Amyotrophic Lateral Sclerosis (ALS) and had been attending local ALS support groups until the muscle weakening disease rendered him too immobile to attend any longer. After frequent visits to the local United Access dealership, Jerry and his wife Donna began to form a special bond with the staff there. As part of its commitment to give back to the disabled community, United Access decided to donate a wheelchair accessible van to the Vickers' in October.
"I am forever grateful to United Access for giving me my independence back. With this van I am now able to attend doctor appointments, church, and ALS support groups, as well as travel with my wife and enjoy my hobby of photography," says Vickers.
In St. Louis, Alex Gunnarson's significant medical needs required his family to continually rent a wheelchair accessible van multiple times a week in order to travel back and forth to Chicago for doctor visits and procedures. United Access knew that the donation of a mobility van would relieve some of the added stress and worry placed on the Gunnarson family. And that's just what they did.
"Prior to receiving the van, we had no idea how we were going to get Alex around. Thanks to United Access, we no longer have that worry. We are just beyond grateful for their help!" says Jennifer Gunnarson, Alex's mother.
United Access thinks of giving back to its communities as a responsibility. In 2011 alone, over $80,000 was donated to local charities that serve persons with disabilities. In addition, United Access employees have given of their time as well as their talents to many charitable events throughout the year.
###
About United Access
About United Access: United Access is an industry-leading provider of new and used wheelchair-accessible vans, wheelchair van rental, scooter lifts, hand controls, mobility seats and transfer seats, wheelchair ramps and other adaptive equipment. United Access has been serving the community for over 30 years, serving customers in Missouri, Illinois, Kansas, Tennessee, Kentucky, Arkansas, Mississippi, New Mexico and Texas with 12 convenient locations. We strive to provide the best customer service experience, period. Visit us at http://www.UnitedAccess.com today!