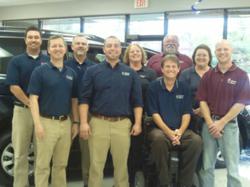 Lenexa, KS (PRWEB) September 13, 2011
United Access, a renowned provider of handicap vans and mobility equipment, has today announced they will be holding a Customer Appreciation Day Open House at their Lenexa, Kansas, location. The open house celebration will be held on Friday, September 16th from 11AM to 5 PM and again on Saturday, September 17th, from 10 AM until 2 PM.
During the open house, United Access will celebrate the opening of their new location and also have lots of fun in store for those attending. On hand will be food and beverages, but there will also be some great door prizes. The grand prize winner will leave with a new flat screen TV, and there will be many other prizes given out as well. Visitors will also be able to get their car washed right on property. All attendees need to do to receive a free door prize is to mention, "OPEN HOUSE BLOG POST" when they arrive.
Those attending the United Access Customer Appreciation Day will also be able to explore all the latest developments in mobility equipment and wheelchair van conversions through the most innovative models on the market. Wheelchair vans from VMI, Braun, Bruno, Eldorado, MPS, EMC, Freedom Sciences and many other top manufacturers in the nation will be on hand, allowing visitors to find the perfect solution to their mobility needs.
Attendees will also find that representatives from the Veteran's Administration and Vocational Rehabilitation will be onsite, offering advice and answering all their questions about handicap vans, wheelchair lifts and more.
The United Access Customer Appreciation Day is all about the customers, about giving back to the community and bringing everyone together in the spirit of celebration. Come and enjoy these amazing two days with the team!
To find out more about the mobility equipment, wheelchair vans and other solutions offered by United Access, visit http://www.UnitedAccess.com.
About United Access: United Access has been providing the latest in adapted vehicles, driving systems and services for over 30 years. They are a member of the National Mobility Equipment Dealers Association and a nationally accredited Quality Assurance Program (QAP) dealer with nine locations across the Midwest and Mid-South. They are committed to giving back to the communities they serve through volunteer time, event sponsorships and donations.
###