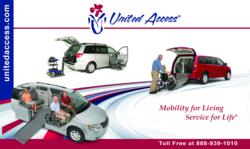 St. Louis, MO (PRWEB) September 19, 2012
United Access, a nationally recognized leader in the wheelchair van and handicap equipment industry, has today announced they will be sponsoring the 2012 US Open USTA Wheelchair Championships, presented by Confluence Sports.
The 2012 US Open USTA Wheelchair Championships will last for seven full days, running from October 1 through the 7th, and will be held at the Dwight Davis Tennis Center – Forest Park, in St. Louis, MO. This is one of the largest events of its kind in the world, and the location was chosen specifically for its capacity. The grandstands can hold up to 2,000 spectators, and there are an additional 18 courts for day/night play with mixed seating available.
The event will draw an expected 125 lettered players, as well as an additional 125 open players (professional class). More than 25 nations will be represented in the 2012 US Open USTA Wheelchair Championships, including Olympic players. The ITF has set a total price amount of $25,000 for this year's event. Finally, the International Tennis Federation has awarded the Super Series sanctioning status, which puts this amazing event on par with world-renowned tennis series including Wimbledon and the US Open.
United Access is proud to provide support and sponsorship for this competition. In conjunction with BraunAbility, United Access is the Overhead Smash Sponsor, and will be donating five wheelchair vans for the transportation of athletes during the tournament. United Access will also be giving away additional "swag" during the tournament, including goodie bags, water bottles and more.
To find out more about United Access, their handicap accessible vans and their community involvement, visit the company at http://www.UnitedAccess.com. To learn more about the 2012 US Open USTA Wheelchair Championships, visit http://www.USOpen.ConfluenceSports.org.
About United Access: United Access is an industry-leading provider of new and used wheelchair-accessible vans, wheelchair van rental, scooter lifts, hand controls, mobility seats and transfer seats, wheelchair ramps and other adaptive equipment. United Access has been serving the community for over 30 years, serving customers in Missouri, Illinois, Kansas, Tennessee, Kentucky, Arkansas, Mississippi, New Mexico and Texas with 12 convenient locations. We strive to provide the best customer service experience, period. Visit us at http://www.UnitedAccess.com today!