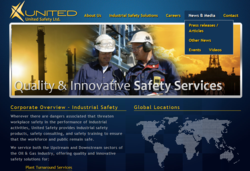 SafePath ensures you have the right risk management equipment, infrastructure and properly trained people in place both during implementation and for the long term cyclical reviews that improve it over time.
Calgary, Alberta (PRWEB) July 12, 2011
United Safety Limited launched a new Risk Management Services Division earlier this year and with it, the innovative SafePath Process ™. The team running the division has already been providing risk management solutions for 20+ years: they are true experts in their field.
Getting into risk management was a perfect fit for United Safety, a leader in H2S protection equipment and safety services for the oil and gas industry. Customers dealing with the safety company can rest assured they are getting the best advice on how to navigate the complex world of risk management because industry expert Allen Duke, known as the driving force behind the highly successful Boots and Coots risk management team, is heading up the new USL Risk Management Services division as Vice President and General Manager of Risk Management. Allen has brought with him a dynamic team of risk management experts who have hit the ground running using the highly effective and consultative SafePath Process ™ to help demystify ways of improving and implementing change for customers' existing risk management plans.
Importance of a Current HAZID
Duke's team of risk management specialists recommend that, at a minimum, companies revisit their risk management plan either every 5 years or whenever there is a process change or an influx of new staff or contractors working on site.
The United Safety RMS division consists of a management team and system that analyzes the effectiveness of an existing safety management system, how it is being practiced on the ground and what the company's safety goals are. From there a plan is developed to bridge the gap, and collaboration with both customer office staff and field personnel occurs throughout implementation. "Too many safety plans are created but never correctly implemented in the field" says Yves Matson, Marketing Director. "Those who implement risk management policies need their staff to not only comply but more importantly, adopt the culture of that safety management system despite the continuous evolution of their business." Allen Duke adds, "RMS involves more than dropping off policy manuals. Risk management is not evergreen. Too often we see a divorce between the plan and the implementation both initially and over the long run. SafePath ensures companies have the right equipment, infrastructure and properly trained people in place both during implementation and for the long term cyclical reviews that improve it over time."
Matson says the organization strives to educate their customers on best practices learned throughout their global company and that unlike most other risk management consultants who favor a wholesale replacement of risk management systems, United Safety's approach is to improve existing RMS plans rather than starting from scratch. This approach is less costly, and a faster path to producing positive results. He says that more importantly, because there is a high turnover of projects, staff and contractors in the oil and gas industry, a system that improves what a company has while conditions change brings a needed flexibility to an industry that is increasingly focused on risk management as a major priority.
Duke adds: "No safety management system is perfect unless a business is static. If a risk management system isn't a dynamic and evolving program, it won't work." He states that according to United Safety's research, 88% of accidents are related to poor risk management and companies need to do more than document policies. "They need to embed a true risk management culture in their business, implement policy effectively at the site, track key performance indicators and effectively analyze those indicators as a catalyst to further improving policy. It often takes a third party to help them make that happen."
Why United Safety's SafePath Process™?
United Safety's SafePath Process™ was developed as an office to site, or "Suits to Boots", framework. It doesn't replace existing risk management systems. Rather, it respects a company's corporate culture delivering a holistic, long-term risk management approach that includes risk modeling, incident investigation, process safety, workplace safety implementations, management systems and technical safety personnel to help clients with all facets of implementation and ongoing compliance.
For a more comprehensive look at integrated risk management, view a recorded webinar by Allen Duke here: http://www.UnitedSafety.net/events-Integrated-Risk-Management-Webinar.html and learn more about Risk Management Service offerings at http://www.UnitedSafety.net/safe-path.html.
###