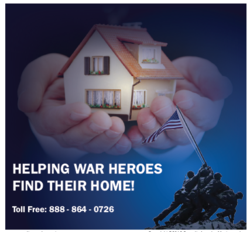 Houston, Austin, Dallas, TX (PRWEB) April 27, 2012
Relocating anywhere for a military family can be a hassle, especially if they're looking to purchase a new home in an area they are unfamiliar with. VA Relocation Experts at Security America Mortgage make it their priority to make the transition to a new location and the purchase of a VA Home as easy as possible.
Military relocation, VA mortgage & real estate services for first time home buyers just got easier with the new collective sponsorship joined by Security America Mortgage and Security American Realty. The VA Home Loan, Real Estate, Mortgage Experts recently announced their new partnership of Wounded Warrior Volunteer Services, providing Texas Veterans more support nation wide. "The challenge of reaching out to all American Heroes can be tough, but it's worth a shot," said Residential Mortgage Loan Originator, Jason Noble. The challenge for the Texas leaders begins with the Southern States in the U.S. - Texas, Florida, Louisiana, Alabama, and the list grows on as California, North Carolina, Kansas, Colorado, and Arkansas are NMLS approved for these ambitious VA Mortgage Loan Specialists.
*NEWS VETERANS NEED TO KNOW ABOUT VA LOANS
United States VA Loan Limits for 2012:
"The procedure for calculating loan limits for 2012 has changed from 2011. VA's previous procedure expires December 31, 2011. If Congress passes legislation permitting VA to calculate maximum guaranty as it has in the past, the numbers below could increase slightly; they will NOT decrease. If that occurs, we will post announcements and reissue this loan limit chart..."
The lucky day for Veterans has arrived, especially for those who choose to finance a mortgage in Texas, especially when these high-end VA loan amounts are already guaranteed and insured by the Department of Veteran Affairs. Security America Mortgage, Inc. now make the difference for Veterans and Military personnel purchasing homes in Texas by providing low rates on VA Home Loans and finance options up to $1,000,000.
NOTE: For all counties other than those listed in the VA Loan Limits for 2012 are allowed up to $417,000.
At Security America Mortgage, the VA Home Loan Experts not only make VA Home Loans virtually easy to process and understand, but they also assist Veterans with finding the right home and locating the perfect area to move to with the help from partnering Real Estate Agents from Security American Realty, Inc.