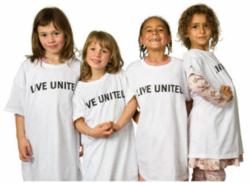 www.uw-wc.org
Elkhorn, Wisconsin (PRWEB) December 19, 2012
"The United Way of Walworth County Wisconsin recently released a new video for the 2012-13 campaign year, highlighting several of the area companies that have been supporters of the United Way and the 45 agencies it supports. The video also features real stories of residents whose lives have been saved by the safety nets these agencies create from your support and generous gifts.
View United Way of Walworth County's Video by clicking here.
The 2012-2013 campaign marks the third year for the United Way of Walworth County. In 2010, the UWWC was formed when Geneva Lakes United Way and Delavan-Darien United Way merged and invited other cities in the county, like Elkhorn, East Troy, Fontana and Williams Bay to join their goal of making it a truly united county. The merger has been a tremendous success, raising awareness in the new areas and increasing the funds for the agencies that so desperately need the support to serve so many of our friends and neighbors in need.
To donate today to the United Way of Walworth County, visit their website at http://www.uw-wc.org or call the UWWC Executive Director, Joe Peyer at (262) 374-4474.