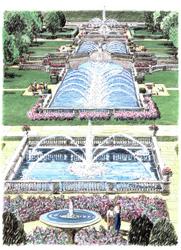 The fountains have deep emotional connection for so many — they symbolize and affirm prosperity, the flow of life and renewal.
Unity Village, MO (Vocus) March 26, 2010
Work is beginning at Unity Village to restore one of the largest fountains in the Kansas City metro area to its original historic beauty. To launch the project, funded entirely by donations, Unity will hold a groundbreaking ceremony at 3 p.m. Thursday, April 1, in Unity's Rose Garden plaza. The fountains are scheduled to flow again for the first time in seven years on Thursday, Sept. 9, 2010, for World Day of Prayer.
Unity employees, project donors and the public are invited to attend the ceremony, which will last about 15 minutes and will be held rain or shine. Duke Tufty , senior minister at Unity Temple on the Plaza and chair of Unity's Board of Directors, will offer a blessing and place a brick paver recognizing Rickert Fillmore—son of Unity's founders and designer of Unity Village—in a location overlooking the fountains.
Hired for the restoration project are Counsilman-Hunsaker , an aquatic design firm headquartered in St. Louis, and David E. Ross Construction of Raytown.
"The restoration will add tremendous aesthetic beauty to Unity's central courtyard for our employees and the thousands of people who visit the campus each year for weddings, retreats, classes, or just a beautiful location for a photo," said Unity President and CEO Charlotte Shelton. "However, the fountains also have deep emotional connection for so many — they symbolize and affirm prosperity, the flow of life and renewal."
To mark the project's magnitude, and in a nod to Kansas City Fountain Day on April 5, Unity's historic tower will be lighted blue April 1 through Sept. 9, with one exception: The color will switch to orange during MoDOT highway safety week, April 19-23.
The fountains, which serve as a Unity Village campus centerpiece and a major draw for visitors, were originally designed for practical use: The mirror pools, built in the late 1940s, were part of the buildings' air-conditioning system. In the early '50s, when growth and expansion increased the cooling demands at Unity Village, cast-concrete dome fountainheads and spray nozzles were added. The decorative fountains were used to cool water for the chiller equipment. The water sprayed higher as the temperature rose.
In 2003, a large section of the deteriorated concrete collapsed. Since then, the fountains have remained silent and the reflecting pools empty. In the restored fountains, water will spray from the outer edges, arching toward the center.
The 56 ash trees that line the fountains will be removed this weekend due to disease and the damage their horizontal root systems have caused to underground piping. "Anderson Red" columnar maple trees, which have vertical root systems that will not impede below-ground campus infrastructure, will replace the 50-year-old ash trees. Large flowering urns, ornamental lighting, and a pathway of brick pavers engraved with donors' names will also grace the courtyard.
Fundraising for the restoration project began in 2007, when Unity employees collectively contributed more than $15,000 in "seed money." Since then nearly 4,000 donors worldwide have contributed the additional funds through cash donations and the purchase of engraved brick pavers to honor loved ones.
Brick pavers are still available for a minimum donation of $125. For details, contact Lisa Wilson, Development office, at 816-251-3505.
About Unity
Unity helps people of all faiths apply positive spiritual principles in their daily lives. The organization touches nearly 4 million people each year through a non-denominational prayer ministry called Silent Unity, publications such as Daily Word and Unity Magazine, and spiritual education classes and retreats. Unity Village, the world headquarters of Unity, is located at M-350 Highway and Colbern Road (1901 NW Blue Parkway), near Lee's Summit, Mo. For more information, visit http://www.unity.org.
Contact: Paula Coppel, Vice President of Communications
Phone: (816) 251-3534
Web site: http://www.unityonline.org
# # #