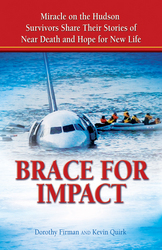 Brace for Impact: The Shake Up and the Wake Up
Unity Village, MO (Vocus) February 25, 2010
Three survivors from US Airways Flight 1549, which crash landed in the Hudson River last year, will be at Unity Village on Friday, March 19, for an evening presentation followed by a one-day workshop. Kevin Quirk, co-author of the book Brace for Impact, will also speak at the events.
The presentation, called "Brace for Impact: The Shake Up and the Wake Up," will begin at 7 p.m. Friday, March 19, at the Unity Village Activities Center, southeast of Kansas City, Mo.
Passengers will take the audience inside Flight 1549, telling how Captain Chelsey Sullenberger guided the plane to safety and how the near-death experience has given them a "new" life. Kevin Quirk will explain his vision to write the book and how it has inspired people across the country. A Q&A session and book-signing will follow. Tickets are $25 (plus a processing fee).
The workshop, called "Brace for Impact: Life Lessons from the Miracle on the Hudson," will take place from 9:30 a.m. to 4 p.m. on Saturday, March 20, at location. The workshop will delve deeply into the Flight 1549 passengers' experiences, highlighting the powerful spiritual themes that have emerged in the aftermath of the ordeal. Participants will be invited to reflect on the inherent miracles extending from traumatic events in their own lives. The cost of the workshop is $65.
For more details or to purchase tickets visit http://www.unity.org/braceforimpact. Tickets can also be purchased by calling 1-800-595-4TIX (1-800-595-4849).
To schedule an interview with Kevin Quirk or Flight 1549 passengers, contact Kevin Quirk at 434-823-7629.
Meet Three US Airways Flight 1549 Survivors
Beth McHugh, a St. Louis, Mo., native, made a vow after the crash to hug every person with whom she had more than a brief encounter. She's kept the promise for more than a year, hugging everyone from airport security guards to high school football players. "I look at each person I meet as someone I would never have known—a gift to me. I hope that I, too, can be a gift to them," Beth said.
Maryann Bruce is known as the "Woman with Seven Lives." She has managed to escape seven scares and near-tragedies, including a tsunami, an avalanche, a hurricane, the 1993 World Trade Center bombing and 9/11. She lives in Cornelius, N.C.
Darren Beck, who recently appeared on Oprah with fellow Flight 1549 survivors, is a former "tough guy" from Charlotte, N.C. After the crash, he made a deeper commitment to be there for his wife and three sons. This commitment prompted a major test--a choice between work and family—shortly after the crash.
About Kevin Quirk
Kevin Quirk is co-author of Brace for Impact: Miracle on the Hudson. He is a former counselor with the nonprofit group Authentic Living and a sports journalist with the Charlotte Observer. Kevin currently assists clients with writing memoirs, autobiographies and other projects, and also teaches writing classes through the University of Virginia's Continuing Education program and the Osher Lifelong Learning Institute. He lives in Charlottesville, Va., with his wife, Krista, and 8-year-old son, Aibek.
About Unity
Unity helps people of all faiths apply positive spiritual principals in their daily lives. The organization touches millions of people each year through a non-denominational prayer ministry called Silent Unity, publications such as Daily Word and Unity Magazine, and spiritual education classes and retreats. Unity Village, the world headquarters of Unity, is located at M-350 Highway and Colbern Road (1901 NW Blue Parkway), near Lee's Summit, Mo. For more information, visit http://www.unity.org.
Contact: Erika VanTuyl,
Marketing Program Specialist
Phone: (816) 524-3550, Ext. 3020
Web site: http://www.unityonline.org
###