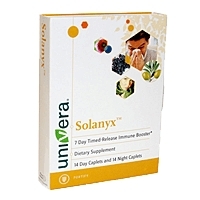 We are creating a real distinction for Solanyx because we believe that people want to take control of their health
Lacey, Wash. (PRWEB) February 25, 2009
Univera, Inc., best known for the ground-breaking cell renewal formula AgelessXtra® and a pioneer in the development of scientifically-validated natural health products, today announced the release of Solanyx™, a 7-day, timed-release product that provides high-potency doses of natural, immune-boosting ingredients. With Super Immune™ and the introduction of ImmunoBurst™ last month, Solanyx is the most powerful of the company's trio of immune support products.
The exclusive Solanyx Day/Night formulas target the body's specific needs at different times of the day. Solanyx Day provides the right boost of immune support to help you meet all the demands of daily life. Solanyx Night promotes the deep, restful, sleep that you need to optimize your immune response. The Solanyx Day/Night proprietary formulas are a blend of all-natural ingredients with no additional coloring or preservatives, are non-habit forming, and come in a convenient 7-day treatment pack.
"We are creating a real distinction for Solanyx because we believe that people want to take control of their health," Univera Chief Scientific Officer, Stephen Cherniske, said. "At the first hint that they might be coming down with something, they want to reach for a powerful, natural solution that will kick their defenses into high gear. Our exclusive Solanyx Day/Night formulas provide 24-hour, defense building, immune support with the right blend of natural ingredients precisely when you need it most."
Solanyx Day includes:

More than 300% of your daily recommended value for Vitamin C
A blend of two species of Echinacea for across-the-board support
N-Acetyl Cysteine to promote detoxification
Olive leaf extract for additional antioxidant protection
A medicinal mushroom complex of shiitake, maitake, and reishi mushrooms - used in Asian countries for hundreds of years for their immune-supporting properties
Solanyx Night includes:

Hops, chamomile, and melatonin to help you rest and relax
Immuno-10®, a Unigen-patented immune compound derived from Aloe vera
More than 300% of your daily recommended value for Vitamin C, as well as zinc, selenium, and blueberry extract for continued immune support
"Solanyx is deeply rooted in Univera's commitment to bring the best of nature to humankind," Univera President, Rich Razgaitis, said. "We will continue to tap into the power of nature's bounty and formulate ways to bring this power to consumers. By adding Solanyx to our immune products line we now offer three levels of support."
In addition to Solanyx, Univera's immune product line includes Super Immune and ImmunoBurst. Super Immune provides consistent immune support when taken daily. ImmunoBurst, a berry-flavored chew, is designed to be taken when a quick immune boost is needed, such as right before travel or in other compromising environments. The fruit-flavored supplement is safe and effective immune support for ages 5 and up.
Univera products are available through its extensive network of independent distributors. To learn more about Univera products, visit http://www.univera.com.
*These statements have not been evaluated by the Food and Drug Administration. This product is not intended to diagnose, treat, cure, or prevent any disease.
About Univera®
Univera, Inc. (http://www.univera.com) is the world's leading cell renewal-focused relationship marketing company offering life-changing nutrition products and unparalleled home-business opportunity for nearly 100,000 people currently in North America. Science-based, with full-scale genomic and biological research capabilities, the company sets the standard for excellence in advanced research, technology and manufacturing capabilities. Univera is part of the ECONET global family of health and natural product companies, including Unigen, Aloecorp, and NatureTech, which have operations in the United States, Canada, Korea, Mexico, Russia and China. The company celebrates its 10-year anniversary in 2009.
Contact:
Jennifer Wright
Univera, Inc.
(360) 486-7500 ext. 1661
###