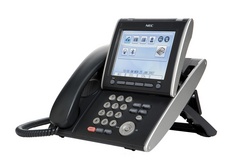 With NEC's new infrastructure and applications, we provide a clear choice for customers looking to move to IP while giving our current customers a smooth migration path.
IRVING, Texas (PRWEB) March 12, 2008
Last month NEC announced UNIVERGE360, an approach that puts people in the center of communications when designing a communications solution. Once the user's roles are identified, NEC can then build a communications solution designed to help meet the needs of the company starting with a Unified Infrastructure, then adding in specific elements of Unified Communications, and integrating with existing business processes (Unified Processes). NEC's approach is unique in that it also offers a full range of services and has global relationships to support the needs of enterprises.
Based on the UNIVERGE360 vision, NEC's new portfolio is built on enhanced software for NEC's UNIVERGE SV7000 IP communications server and the new SV8500 enterprise server. NEC also offers UC for Enterprise, a powerful array of advanced applications for unified communications (UC) and mobility. Additionally, NEC has a new line of modular IP and digital terminals, UNIVERGE DT700/DT300, that support both the enterprise and small- to medium-sized communication systems.
"There are many buzzwords in the industry today including Unified Communications, Fixed Mobile Convergence and Voice over IP, but the fact remains that enterprises need to know how to integrate these communications into their business processes based on the role of their employees," said Jeff Kane, president of NEC Unified Solutions. "With NEC's new infrastructure and applications, we provide a clear choice for customers looking to move to IP while giving our current customers a smooth migration path."
Unified Communications
NEC's UC for Enterprise gives corporate executives and IT departments the power to unify their business communications with a suite of powerful applications. The UC for Enterprise suite includes:
-- UNIVERGE UC700 Desktop Client: The UC700 desktop client combines UC functionality in a single application with click-to-dial and clipboard dialer, presence-based call routing, communication history information, voice, video and web conferencing, whiteboarding, screen sharing, screen capture, and screen pops for incoming messages. A consolidated client application displays voice messages, email, instant messages and fax messages in a single location.
-- UNIVERGE MC530 Mobile Client: The UNIVERGE Mobile Client combines UC and mobility, seamlessly extending unified messaging from the business IP communication system directly to mobile devices. The Mobile Client software accesses enterprise VoIP application services to provide dual-mode Wi-Fi/cellular devices with a unified user experience in either network mode. The Mobile Client gives users one phone number for desk phone and mobile device, by providing a single mobile device that works as effectively offsite as in the office. It also provides presence, an easy to use GUI interface, and device support for Windows Mobile(R) 5, RIM(R) and Symbian(R) operating systems.
-- UNIVERGE UM8500 Unified Messaging System: Fully compatible with the UNIVERGE UC700 desktop client and MC530 mobile client, UM8500 is a feature rich, scalable, unified messaging solution. It is the first-ever UM solution to include VideoMail, Find Me/Follow Me capability and ViewCall for desktop call control. Microsoft(R) Exchange Server integration within the UM8500 system enables the system to read aloud a schedule of activities for any given day, up to one year in advance. The UM8500 is designed to allow large enterprises to maximize productivity and streamline operational costs.
Unified Infrastructure
With the latest software release (R24) for the UNIVERGE SV7000 VoIP communications server, customers now have access to a number of key features, including support for:
-- UC for Enterprise clients and mobility applications
-- Next-generation softphone with advanced communications features
-- Open standards and compatibility allowing for added flexibility, featuring:
-- SIP-enabled devices
-- LDAP-compliant databases
-- Java(TM) and XML
-- Any managed data network infrastructure
-- Power over Ethernet (PoE) and CDP
-- 802.11 a/b/g wireless LAN (WLAN)
In addition, NEC's next-generation enterprise communications server, the UNIVERGE SV8500, will launch this summer. It will provide a roadmap and investment protection for current NEC enterprise customers while offering a secure and robust platform for new customers to begin unifying their business communications.
NEC's UNIVERGE enterprise communications servers offer common management tools, applications and application development platforms, including:
-- UNIVERGE DT700/DT300 terminal series includes a new family of IP and digital terminals that move the standard desktop phone to the next level with an extensive feature set and modular design. UNIVERGE terminals provide:
-- scalability and customization;
-- SIP support;
-- investment protection;
-- XML open interface support(1);
-- intuitive interfaces; and productivity-enhancing features such as menu-driven soft key functions and easy-access function keys.
The revolutionary modular design allows for up to 8,000 combinations to fit any business's needs or personalization requirements.
-- UNIVERGE OW5000 API: The UNIVERGE OW5000 media gateway is the integration platform for both NEC and popular third-party UC solutions, including Microsoft(R) Office Communications Server, IBM(R) Lotus(R) Sametime(R) and hundreds of other applications offered as part of the UNIVERGE Solutions Partner Program.
-- UNIVERGE MA4000 Management System: A Web-based management application that gives users remote access through a personalized portal to configure their communications options based on individual needs, thereby streamlining IT administrative workflow. MA4000 Expense Manager offers call accounting, asset management and wireless/mobile management and billing and invoice management features. MA4000 also provides multi-vendor PBX support.
UNIVERGE SV7000 R24 is generally available today while the UC for Enterprise portfolio, new terminals and management application will all be available at the end of April 2008.
(1) XML open interface support enables developers to create tailored applications, which are displayable and accessible via NEC's IP terminals. Global icons indicate status at a glance including notification of new voice or instant messages, missed calls, the telephone user's current presence status, and the device's current data protection mode.
About NEC Unified Solutions
NEC Unified Solutions helps companies unify their business through innovative software, applications, development tools, and services. NEC offers a complete portfolio for unified communications, wireless, voice, data and managed services, as well as systems integration and application development. NEC Unified Solutions, a wholly owned subsidiary of NEC Corporation of America, serves Fortune 1000, as well as small to mid-sized businesses across the globe in vertical markets such as hospitality, education, government and healthcare. For more information, visit http://www.necunified.com.
NEC and UNIVERGE are registered trademarks of NEC Corporation. All other brands and products referenced herein are acknowledged to be trademarks or registered trademarks of their respective holders.