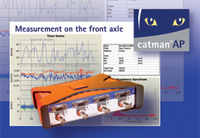 Darmstadt, Germany (Vocus) September 10, 2009
HBM is now selling its QuantumX, MX410 universal amplifier and cat-man®AP data acquisition software as a bundle to provide a simplified yet flexible choice of equipment. The package provides users with a quick and integrated method of getting started in data acquisition for a wide variety of applications.
The universal QuantumX system can be used to synchronize the acquisition of different physical quantities such as force, pressure, displacement, voltage, current and accelera-tion. Integrated Transducer Electronic Data Sheet (TEDS) technology allows the auto-matic detection and configuration of all TEDS-compatible transducers for added reliability.
The MX410 amplifier features four individually configurable inputs, each electrically iso-lated and each with an analog output. Digitalization is implemented with a high resolution of 24 bit while a sampling rate of up to 96 kHz/channel enables dynamic quantities to be acquired resulting in high measurement quality. The amplifier is suitable for SG trans-ducers in half or full bridge circuits, inductive half or full bridges, current-fed piezoelectric sensors (IEPE), analog voltage signals (± 10 V) and currents (± 20mA). An Ethernet TCP/IP interface is integrated for PC communication.
The bundle also includes HBM's powerful and intuitive catman®AP software for user-friendly acquisition and analysis of measurement data. Any acquired data are immedi-ately available for further evaluation and analysis in the software. It is very easy to set up measurement tasks with catman®AP reducing set-up times to a minimum.
HBM's catman®AP also features a new interface that helps users to concentrate focuses on their measurement tasks with its easy-to-follow operator guidance while menus have been replaced by function keys that adapt to each measurement task.
Further information at: http://www.hbm.com/quantumx-bundle
###