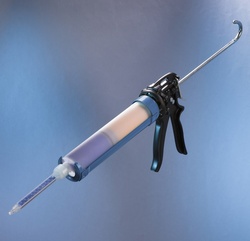 ROBBINSVILLE, N.J. (PRWEB) October 8, 2008
A recent report projects the global adhesives market to exceed $30 billion USD by 2010. Applications include automotive, aerospace, construction, electronics and industrial assembly. Helping drive this growth is the increasing use of adhesives as alternatives to mechanical fasteners like screws and rivets.
The Generation II Universal Cartridge features a unique in-line design that places one adhesive component behind the other, instead of the traditional side-by-side configuration. This allows the Universal Cartridge to be used with a standard caulking gun instead of the more expensive, product-specific dispensers required for side-by side cartridges.
For adhesive manufacturers, the ability to introduce new products in a package that can be used with an inexpensive, readily available application tool can help facilitate market acceptance and gain market share. Other benefits include:
Maintains correct ratio between adhesive components to ensure performance and bond strength Preassembled and 100% factory tested for trouble-free filling Superior shelf life Eco-friendly design minimizes waste Easily resealed to preserve unused material TAH Industries is a wholly owned subsidiary of Nordson Corporation, and a leading manufacturer of motionless mixer dispensing systems for two-component adhesives and sealants. TAH Industries specializes in the design and production of disposable plastic mixers and cartridge dispensing systems, meter mix dispense valves and accessories. Their products are used in the dental, construction, automotive, life science, food, DIY, marine and aerospace industries.
Nordson Corporation is one of the world's leading producers of precision dispensing equipment that applies adhesives, sealants and coatings to a broad range of consumer and industrial products during manufacturing operations. The company also manufactures equipment used in the testing and inspection of electronic components as well as technology-based systems for curing and surface treatment processes. Headquartered in Westlake, Ohio, Nordson has more than 4,100 employees worldwide, and direct operations and sales support offices in 34 countries.