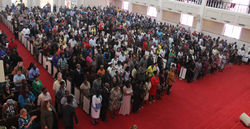 NEWARK, N.J. (PRWEB) December 18, 2018
The Universal Church of the Kingdom of God, a global evangelical church headquartered at the Temple of Solomon in São Paulo, Brazil, organized a service on November 16, 2018 that focused on helping congregants and visitors make real changes in their lives. The service was called "Enough Is Enough," and took place in Universal Church locations all across the United States. Local pastors also answered any questions and provided counseling to those in need.
Although people may appear to be fine on the outside, they may be struggling with an existing problem that is causing them emotional, physical, and spiritual pain. Fear and shame are common reasons why they don't seek help or let others in. These emotions do not come from God, and they do not need to be felt any longer. The Universal Church of the Kingdom of God organized "Enough Is Enough" to help those who are struggling to begin their transformation to a better life where they can act their faith and trust in the promises of God.
The Universal Church has pastors and congregants who have helped countless individuals overcome their existing problems and reject them for good. They have said "enough is enough" and are now helping others overcome their past experiences, addictions, and emotional issues through faith and prayer. The Universal Church believes that anyone can experience a transformation, and it starts with making the decision to say "enough is enough!"
The "Enough Is Enough" transformation service in November may have passed, but the Universal Church welcomes anyone who is looking to change, to speak with a Universal Church pastor today. Pastors are available every day to provide counseling and assistance.
About The Universal Church: The Universal Church believes in the Word of God and the power of faith. Locations are open 365 days a year and they are passionate about reaching those in need of spiritual guidance and restoration. They believe anyone can change for the better.