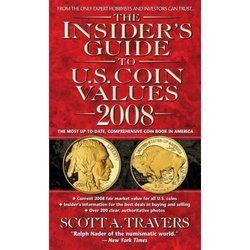 Insider's Guide to U.S. Coin Values 2008
New York, NY (PRWEB) February 29, 2008
In the 2008 release of the "Insider's Guide to U.S. Coin Values" Mike Fuljenz, President of Universal Coin & Bullion, once again assisted author Scott A. Travers in placing values on gold coins. This is a leading coin price guide published by Bantam Dell, a division of Random House, Inc. Collectors anxiously await this guide across the country considered "The most up-to-date comprehensive Coin Book in America" to evaluate their collections.
The most prestigious numismatic authorities in America assign the values to the coins covered in this guide. Mr. Travers is often sought by publications such as The Wall Street Journal and Business Week, and has served as a coin valuation consultant to the Federal Trade Commission. He has surrounded himself with other leading experts to provide coin collectors the most accurate coin values available. In his acknowledgements Travers give recognition to those numismatic experts he depends on to give him the values for his publication. His acknowledgement for Mike Fuljenz, read "Michael R Fuljenz" of Universal Coin & Bullion in Beaumont, Texas updated the values for gold eagles through double eagles. He is one of the Nation's highest profiled and most esteemed gold coin authorities. His contributions, like the metal, itself, glitter."
In past issues Fuljenz, the President of Universal Coin & Bullion has served as the gold coin price coordinator. Mr. Fuljenz is also a well-known numismatic author who has written numerous books relating to coin collecting, such as "The Collector's Guide to Indian Head Quarter Eagles" and just recently, "The Collector's Guide to $10 Indian Head Eagles." Mike Fuljenz is also the recipient of a 2002 NLG Book of the Year Award for his "Type II Double Eagles: 1866-1876" book.
The "Insider's Guide to U.S. Coin Values 2008" is available on Amazon.com and in most local bookstores.
###