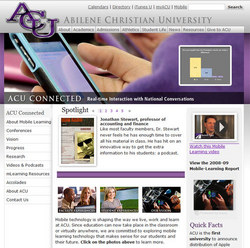 "Tying our web content so elegantly into our existing systems and mobile strategy will help ACU provide new opportunities for professors and students to engage within and outside the classroom." Dr. William Rankin, Director of Educational Innovation, ACU
Woburn, MA (PRWEB) February 17, 2010
Percussion Software – a leading provider of Web Content Management (WCM) systems for customers such as Hotwire.com, TiVo, and Virginia Tech University – today announced that Percussion CM System has been selected by Abilene Christian University to power http://www.acu.edu.
ACU, recently named one of America's Best Colleges by U.S. News and World Report, is known for its innovative use of mobile technology as part of the 21st century classroom. The university began distributing Apple iPhones and iPod Touches to all incoming freshmen in 2008 in an effort to integrate technology and learning both in and out of the campus. ACU will use Percussion CM System to power a redesigned website, source user-generated content from students and faculty, and add richness to mobile web content.
"ACU is receiving national notoriety for academic quality and innovation in the classroom. Our graduates are accepted into medical schools at twice the national rate, and into law schools at a rate of 90%. ACU athletes are playing in the NFL. Our career network of alumni extends to every state and 109 countries. We're competing nationally with the top tier of academic institutions," said Kris Evans, Director of Strategic Marketing. "Implementing a web content management system that can go beyond the traditional scope of WCM to drive engagement and interaction is an important part of our 21st Century Vision."
The following key capabilities were central to Percussion's selection as a replacement to ACU's Serena Collage CMS:

Ease of Integration: Percussion CM System is uniquely architected to permit organizations to fully leverage their existing technology infrastructure. The CMS will seamlessly integrate into Talisma, ACU's customer relationship management (CRM) solution, as well as a system housing student and faculty data, driving down ACU's time and cost to market.
Mobile Delivery: CM System's multi-channel publishing capabilities will help connect students to professors, as well as campus news, calendars, course documents, and rich media, via ACU's mobile portal and the campus' 590 wifi access points.
Social Content: ACU will use Percussion's Community Marketing Solution to encourage user-generated content, such as comments and ratings, and the use of in-class surveys and polls. The streaming of live events – as well as the incorporation of Twitter and Facebook – will allow the university to engage with constituents at a deeper level.
"The robustness of the Community Marketing Solution was one reason we chose Percussion. It offers unparalleled flexibility to enable dialogue with the ACU community," said Evans. "Additionally, CM System's ease of use will allow us to much more efficiently deliver certain aspects of our website to mobile devices."
Dr. William Rankin, ACU's Director of Educational Innovation, added "Tying our web content so elegantly into our existing systems and our mobile technology strategy will help ACU provide new opportunities for professors and students to engage both within and outside of the classroom."
"We couldn't be more excited about this project," said Joe Wykes, President of Percussion. "Abilene Christian University's leading vision - empowering their students and faculty to better communicate through the convergence of mobile and social web content – is a step forward in how academic institutions can use the web to drive learning and engagement."
Other users of Percussion CM System in higher education include Bowling Green State University, Broward College, Grand Rapids Community College, Harvard University Law School, HEC Montreal, Michigan Tech University, and Virginia Tech University.
About ACU:
ACU is a vibrant, innovative, Christ-centered community that engages students in authentic spiritual and intellectual growth, equipping them to make a real difference in the world. ACU was named one of America's Best Colleges by U.S. News and World Report in its 2010 edition and was recently ranked in the top 7 percent of universities nationwide in Forbes magazine's America's Best Colleges rankings.
Learn more about how Abilene Christian University's cutting-edge mobile learning initiative is paving the way in 21st century higher education.
About Percussion:
Percussion provides Web Content Management (WCM) software that helps businesses increase traffic, drive conversion, and improve social interaction. Percussion's Adaptive Architecture allows non-technical users to take control of content and presentation, provides unparalleled control over how web content is used, and allows organizations to freely integrate third-party applications without being encumbered by legacy technology.
Percussion has been helping a broad cross-section of corporations, institutions, and agencies generate online results, including Hotwire.com, Virginia Tech University, Kohl's, Computer Associates, AutoTrader.com, and the U.S. Department of Health & Human Services.
More information can be found at http://www.percussion.com.
###