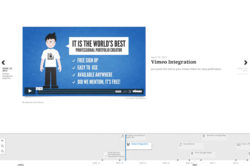 If you can Tweet, you can use Profolio.
Jacksonville, Florida (PRWEB) April 16, 2013
Sharing content quickly and easily can affect the outcome of promotion, marketing or employment in the 21st century. Four students from the University of North Florida have launched a new website at http://profol.io.
This resource is providing a free and easy way for any user to create and share a portfolio, idea, concept or other type of project with a simple link. User registration at this website is now open online.
Push Button Development is behind the concept and design of the Profol.io website. These students create resourceful web applications that are designed to have a positive impact on society. The talented team members of this group have tested the Profol.io design and have readied this online resource for its launch online.
"If you can Tweet, you can use Profolio," said Jonathan Huber, Designer at Push Button Development. "Students need an easy way to showcase created projects and other ideas to employers. Profolio now provides one of the only free ways to distribute portfolios online," added Huber. This resource is expected to become one of the best portfolio creators online.
The launch of the Profol.io website is timed with the UNF School of Computing Spring Symposium on April 19th. This event is open to the public and the Push Button Development team will be showcasing the benefits of the Profolio website to attendees. More information about the Symposium can be found online at http://unfsocsymposium.eventbrite.com.
About Profol.io
The Profol.io team creates website applications that are designed for ease of use and to help create a resourceful impact on society. The technological advancements put into the company designed apps are now helping students, business owners, designers, musicians and others who depend on technology for communication and promotion. The Profol.io company was created by Jonathan Huber, Adam Lankford, Chenda Ly and Micah Willard. This design team works daily on internal and external projects.