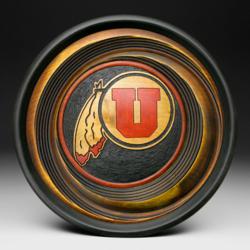 A truly one of a kind piece for Ute fans...
(PRWEB) October 18, 2012
University of Utah fans will rally around a great find at the newly launched daily deals website, BlueCranberry. Initially commissioned by an fine art gallery in Bellingham, Washington, for a University of Utah super fan, BlueCranberry is offering a wood sculpture hand-carved by acclaimed wood turner Douglas Fisher (http://www.douglasjfisher.com/) of British Columbia. BlueCranberry has acquired the exclusive rights to market these beautiful sculptures from the gallery and is working with the artist to complete the limited edition.
Each sculpture is turned from a single round slice of Canadian Big Leaf Maple. Doug Fisher utilizes a special technique while turning the sculpture that produces a unique pattern of offset concentric circles. Mr. Fisher then hand carves the raised Ute insignia into the center of the sculpture against a textured backdrop. The wood is then hand dyed with archival grade stains and dyes. The staining process ensures an accurate color match and long-lasting color richness and depth.
"The hand carving and workmanship of each limited edition sculpture means that each piece is truly one of a kind." commented Kenneth Packer, University of Utah alumnus and principal at Fortis Capital Advisors.
Occasionally, the BlueCranberry team discovers a deal like the University of Utah sculpture. These items are offered at a substantial discount below retail. BlueCranberry will carry this sculpture until the edition of seventy-five is complete.
BlueCranberry recently acquired access to the inventory of haute specialty gift retailer, Hawthorne & Wren. These items are gradually being added to the BlueCranberry site.
"A lot of work went into the original sourcing of the Hawthorne & Wren gift line," said BlueCranberry Founder David McInnis. "We are excited to be able to offer them for sale at BlueCranberry."
For more information about the University of Utah wood sculpture by Douglas Fisher, please visit http://bluecranberry.com/ute-pride-limited-edition-carving/.
Companies with inventory to sell on BlueCranberry, please contact Craig Taylor at http://bluecranberry.com/contact.
About BlueCranberry
Founded by Internet entrepreneur David McInnis, BlueCranberry acquires haute décor, gifts and accessories at liquidation and overstock pricing and makes these items available to its customers at wholesale prices. At least once a week, the team at BlueCranberry selects items to feature as the "Daily Deals," "Weekly Deals" or "Featured Deals." The price of these items is further reduced to liquidate inventory. For more information, visit http://www.bluecranberry.com
Media Contact:
David McInnis
360-483-8441