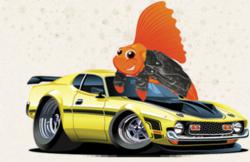 And you'll wish you had worked out some of your credit issues earlier.
Seattle, WA (PRWEB) February 02, 2013
RoadFish.com men's lifestyle and finance magazine today released their statement in support of a UW-Extension educator-fueled campaign titled, "Check Your Free Credit Report Campaign: 2/2, 6/6, 10/10." RoadFish.com commended the group for the original idea and for the encouragement that they're providing consumers in becoming more aware of their credit situations.
According to a recent article by Kristi Cutts of TheNorthwestern.com, educators from the University of Wisconsin Extension are kicking off a new campaign, dubbed the "Check Your Free Credit Report Campaign: 2/2, 6/6, 10/10." The goal of the movement is to encourage consumers to take advantage of their legal right to view their credit reports from each of the three major credit bureaus—Experian, Equifax, and TransUnion—and to remind consumers to view their free credit reports on February 2nd, June 6th, and October 10th. UW-Extension family and consumer economics specialist and UW-Madison Center for Financial Security director J. Michael Collins is quoted as saying within the article, "2/2, 6/6, 10/10 is an easy-to-remember set of three dates. They each represent a day to set aside five minutes to pull one credit report from one credit bureau."
RoadFish.com loves the idea, and applauded the UW-Extension for such a creative effort. RoadFish.com's Senior staff writer is quoted as saying, "I love the idea that the UW-Extension educators have come up with for this campaign. First of all I think it's awesome that there is actually a group of people out there reminding the rest of us to take advantage of a free service that I'm pretty sure most people don't actually cash in on. Getting a free credit report is our legal right, and personally speaking it's something that can help us figure out what areas of our credit need improving. Secondly, I think the idea of assigning specific days—days with catchy, memorable dates—to the action of checking credit reports is brilliant. I can see it now, the pump and pizzazz on February 2nd to urge people to set aside 5 minutes on that day to check their credit reports. It's so much different than saying, 'People, remember to check your credit sometime this year.'"
The "Check Your Free Credit Report Campaign's" website actually states that only about 4 in 10 Wisconsin adults obtain their yearly free credit report, ranking them the 9th lowest across all 50 states to review their credit reports each year. What's more is that the majority of people who do check their credit reports actually pay for the service, when they could be getting up to three free reports per year. The campaign's website states, "By law, you can obtain three free credit reports each year. The information in your credit report affects your life in important ways–your ability to get a loan, how much you pay for credit and insurance, obtaining a job, renting a house or apartment, and preventing identity theft. It is important to check your report regularly to make sure it is accurate and up-to-date. The credit reporting system is set up so that you are responsible for finding . . . errors–you must play the role of quality controller for the information in your reports. This website walks you through the process of obtaining your free reports, reading them, and dealing with any errors."
RoadFish.com is doing their part to help spread the word about the campaign. RoadFish.com's Senior staff writer is quoted as saying, "I read that out of the over 200 million consumers in the U.S. who possess a credit history and a credit report, only 16 million of them order their free report each year. That's crazy people! That's like the dentist offering to give you a free dental exam every year, and you saying, 'Nah, no thanks. I think I'll just figure out what's wrong with my teeth when they start to hurt." Right? Because once you apply for a loan, or apply for a job, or to rent an apartment and discover that your credit's not as strong as you wished, you'll be hurting. And you'll wish you had worked out some of your credit issues earlier. I hope each and every one of our readers sees this post and gets on the free-credit-checking bandwagon."
According to the above-mentioned Northwestern.com article, a FINRA Financial Capability study done in 2009 showed that only 39% of the adults in Wisconsin reported getting a copy of their credit report in the past year, which is 3% less than the national statistic.
About RoadFish.com
RoadFish.com men's online lifestyle and finance magazine is intended for men in their 30's and 40's who have enjoy setting goals and challenges for themselves, and then rising to meet them. RoadFish.com's articles cover topics ranging from personal finance management software, to men's luxury items, to dating tips. Financial tips offered by the online magazine include how to keep a monthly budget, how to chip away at debt, and tips for parents on how to strengthen their teens' credit. RoadFish.com is owned and operated by Purpose, Inc.