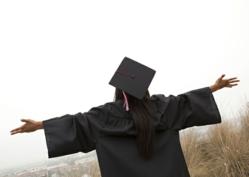 Scott has done brilliant photographic work for California State East Bay, including his coverage of our commencement ceremonies
San Francisco, CA (PRWEB) March 28, 2012
Scott Chernis of Scott Chernis Photography, a San Francisco portrait photographer and lifestyle photographer, announces his preparation for the coming spring 2012 graduations throughout the Bay Area and California. Whether from high school, trade school or graduate school, graduation is the greatest achievement in a young person's life. It is a moment all graduates and their families want to remember.
"It is my job to create a lasting image, one that endures beyond the latest Facebook post," Scott Chernis of Scott Chernis Photography said. "Disposable photography has become widely accepted in our culture, but graduations are rare moments and the pictures should last a lifetime."
Chernis, a San Francisco event photographer, has worked with colleges and universities throughout the Bay Area for more than five years. However, photographing commencement ceremonies is only a small part of a wide range of his campus photo projects. He has worked with the Hispanic Scholarship Fund and many community colleges in the area, who have allowed him to document "first in the family to graduate" moments. He has also shot photos from the perspective of the students, a viewpoint that resonates with parents, students and faculty.
"Scott has done brilliant photographic work for California State East Bay, including his coverage of our commencement ceremonies. Scott is also very personable and a pleasure to work with. I would highly recommend his photography," said Jesse Cantley, art and design director of California State University, East Bay.
Finding a poignant moment is difficult through the noise of graduation. Scott Chernis' main objective is to look past the cell phones and video cameras to create a lasting image.
"We focus much of our efforts promoting success and degree/certificate completion at our college. Scott Chernis provides us with fabulous photos that catch the formal nature of graduation, while also capturing the emotional nature of such a significant life event for the students, their families, and the college faculty and staff," Barbara Celle, director of marketing at Los Medanos College, said.
For more information about Scott Chernis Photography's services, call 415-813-4198 or view his gallery at http://www.scottchernis.com.
About Scott Chernis Photography
Scott Chernis specializes in food, jazz and performance, and event photography. He chiefly serves the Bay Area. Chernis' career in photography started in New Orleans as a student at Tulane University. To this day, he continues to travel back home to the Crescent City to capture the abundant musical traditions of New Orleans. Scott Chernis is an event, lifestyle and corporate portrait photographer.