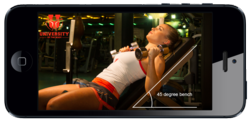 We are making consistently high quality coaching readily available at a fraction of the cost of a personal trainer
Los Angeles, CA (PRWEB) June 18, 2013
University of the Body is set to change the face of personal training by offering high definition feature videos to exactly simulate coaching sessions. Demonstrations are seen on video before an audio soundtrack takes over to coach users through the entire workout session.
At just $8 per month, or $0.50 per session*, the program is attracting significant attention on crowdfunding site, Indiegogo. While there is a wide range of apps on the market, none has been developed as a progressive video program by certified coaches.
While ninety per cent of gym members who say they are "achieving their fitness goals" have a personal trainer, just twelve per cent of gym goers can afford a professional training, leaving a major gap in the market.
Peter Rodwell, founder of University of the Body, explains:
"We are making consistently high quality coaching readily available at a fraction of the cost of a personal trainer. Developments in technology and a dramatic uptake of smart devices have created new channels to deliver personal training and while there are plenty of apps available, none has been developed to simulate a personal training session, let alone progressive workouts with a certified coach."
University of the Body has been developed by a team of certified fitness trainers, app developers and a professional film crew. Videos will be delivered directly to subscribers' smart phones and will cover all aspects of a workout, from basic training guidelines to high level performance coaching through weights training, cardio circuits and flexibility programs.
A press pack with product images, video and high resolution logos is available here.

Based on the assumption of the user going to the gym three times per week