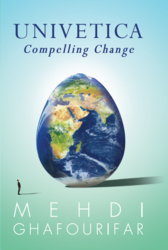 Just as maximization of monetary value motivates traditional entrepreneurs, optimization of social value serves to motivate this new class of businessmen and women.
San Jose, CA (PRWEB) March 30, 2012
Univetica's new social entrepreneurship solutions make it simpler and easier than ever to transform a traditional business into a social business. Social entrepreneurship is the innovation and creation of a venture that harnesses the power of business to generate positive social change. A social entrepreneur is an agent for such change—a new wave businessperson for the 21st century. While traditional entrepreneurs often migrate toward business to generate profit, serious socially-minded entrepreneurs place improving the world around them as their primary fiduciary, even sometimes at the expense of higher profits.
Just as maximization of monetary value motivates traditional entrepreneurs, optimization of social value serves to motivate this new class of businessmen and women. Social entrepreneurs have been known to bring first-world health care tools to people neglected by all but the most dedicated non-profit enterprises. They find ways to rebuild economies in war- or disaster-plagued areas, establishing commerce which not only serves a community's goals of economic growth, but its social goals as well. Some notables in this area have even gone on to establish institutions which encourage and assist in the growth of social business ventures such as select community-owned banks, media companies, and membership associations.
For anyone with the will to make a positive impact through business, there is practically nothing standing in the way of social entrepreneurship. To a great degree, our globalized economy forces us to pay attention to foreign locales, not just from a monetary standpoint but from a moral one as well. Ignoring deteriorating conditions throughout the world now has direct consequences at home. To succeed in business, more than ever, companies are being pressured to consider the impact of their existence on the community at large. Univetica social entrepreneurship solutions work, not only for emerging and rapidly expanding businesses, but also for those interested in differentiating themselves within their industries.
How social entrepreneurship affects business in the 21st century
Since companies have been guided by the profit motive traditionally, one might assume that there is a fundamental divide between traditional entrepreneurship and social entrepreneurship. However, with the rise of Corporate Social Responsibility in the marketplace, the wall between traditional and social businesses has begun to fall. Growing consumer awareness of regressive business paradigms—rampant resource exhaustion, increasing disparities between rich and poor, unsustainable profit-driving strategies—has placed increased pressure on even the largest of corporations to begin acting in a more socially conscious manner. Many for-profit companies are now beginning to understand that healthy communities translate into stronger business, greater brand-loyalty, and happier, more productive employees. Businesses today have begun to realize that there exists a growing population of consumers eager to support companies which put the community first.
Univetica views social entrepreneurship as more than just a new and upcoming approach to business. Where others see problems, a social entrepreneur sees opportunity and not just for mere profits or market dominance but for the greater good. The default mode of thinking is not, "how can I best profit from this situation?" but rather, "how can I best contribute to this situation?"
About Univetica
Headquartered in Silicon Valley, Univetica is a timely social initiative driven by people from widely varying backgrounds to help create a thriving global community. Univetica develops and deploys solutions that help more people make better decisions more often and become a more vibrant member of today's increasingly interconnected world. To learn more, visit: http://www.univetica.com. For more information about the ground-breaking book, "Univetica: Compelling Change," visit: Amazon.com