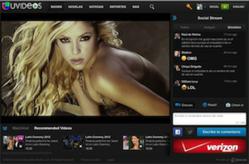 "Arktan is helping to power our time-synced social stream experience which is one of the most innovative features of UVideos."
Scott Levine, Vice President, Video Product, Univision Interactive
Redwood City, CA (PRWEB) January 09, 2013
Univision and Arktan announced today a partnership to power innovative social experiences for UVideos, the first bilingual digital network for Hispanic America.
Available at UVideos.com and via the downloadable UVideos app on iOS, Android and Xbox, UVideos features one of the most fully integrated and comprehensive social experiences available in any language in the U.S. UVideos allows viewers to watch the best in Spanish-language content, with the option of English-language subtitles on select videos, anywhere, anytime and across any device.
Rahul Aggarwal, CEO and Co-Founder of Arktan, said that "UVideos has raised the bar for real-time social integration for live and on-demand videos. UVideos is one of the largest scale integrations of Arktan SocialStreams and SocialDVR products to date, incorporating several new Arktan product features, and showing Arktan's ability to innovate rapidly. We are proud to be partnering with Univision to bring these industry-first social features to market."
UVideos partnered with Arktan to power the site's social experience. As a result of this partnership, fans entering the experience via UVideos.com or the UVideos app can choose to join the conversation on Facebook and Twitter. Fans have the ability to add comments to videos time-synced to the show's progress. This spoiler free TV allows fans to engage with their friends, Univision talent and the world as if they were all watching it together.
"Arktan is helping to power our time-synced social stream experience which is one of the most innovative features of UVideos," said Scott Levine, Vice President, Video Product, Univision Interactive. "Univision is at the forefront of social discovery, and UVideos continues that leadership delivering the best in Hispanic programming anywhere, anytime and across any device."
Arktan SocialStreams extends curated real-time social fan conversation to the site from Facebook and Twitter and other social media platforms, as well as social streams by Univision's own talent.
Univision is a digital media industry leader bringing to market innovative technology, digital and social media tools and platforms.
About Univision Communications Inc.
Univision Communications Inc. (UCI) is the leading media company serving Hispanic America. Its assets include Univision Network, one of the top five networks in the U.S. regardless of language and the most-watched Spanish-language broadcast television network in the country reaching 96% of U.S. Hispanic households; TeleFutura Network, a general-interest Spanish-language broadcast television network reaching 88% of U.S. Hispanic households; Univision Cable Networks, including Galavisión, the country's leading Spanish-language cable network, as well as Univision tlnovelas, a new 24-hour cable network dedicated to novelas, Univision Deportes Network, a new 24-hour cable network dedicated to sports, ForoTV, a new 24-hour Spanish-language cable network dedicated to news, and an additional suite of six cable offerings - De Película, De Película Clásico, Bandamax, Ritmoson, Telehit and Clásico TV; Univision Studios, which produces and co-produces reality shows, dramatic series and other programming formats for the Company's platforms; Univision Television Group, which owns and/or operates 62 television stations in major U.S. Hispanic markets and Puerto Rico; Univision Radio, the leading Hispanic radio group which owns and/or operates 69 radio stations in 16 of the top 25 U.S. Hispanic markets and Puerto Rico; Univision Interactive Media, a network of national and local online and mobile sites including Univision.com, which continues to be the #1 most-visited Spanish-language website among U.S. online Hispanics, Univision Móvil, a longstanding industry-leader with unique, relevant mobile products and services, and Univision Partner Group, a specialized advertising and publisher network. Headquartered in New York City, UCI has television network operations in Miami and television and radio stations and sales offices in major cities throughout the United States. For more information, please visit Univision.net.
About Arktan, Inc.
Arktan is a leading provider of social curation and real-time conversation products for brands across many industries, including TV, music, sports and publishing. Arktan has built a reputation as a company that brings innovation rapidly to market. Customers are using Arktan products to extend curated real-time content and conversation from the social web and blogs to their sites, mobile apps, and TV, to build interactive experiences. Arktan products are helping customers build brand loyalty, boost site traffic, and increase revenue opportunities from advertising, product sales, and data capture. Arktan is powering social experiences for a growing number of leading brands, including Universal Music Group, Sony Music, Warner Music, TNT, TBS, ABC, CBS, Univision, The Washington Post, Bell Media, and Toronto Star.