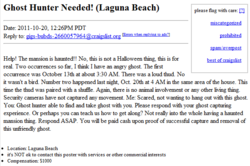 We're not interested in going into the Haunted Mansion business.
Laguna Beach, CA (PRWEB) October 29, 2011
The Unix Mansion regularly plays host to events, photo shoots, music videos and more. But recently, an uninvited guest has made several appearances. As a result, the mansion's residents have launched a search for a ghost hunter who can take care of their paranormal problem.
People who live in the mansion have reported several instances of what feels like otherworldly activity, including thuds, loud noises, and shuffling. All of these occurrences took place at around 3:30 in the morning over the past month. Security camera footage and a search of the house were both inconclusive.
One resident was working late in his home office when an incident occurred.
"I heard a loud pounding sound which was unlike anything I have ever heard before," he said. "It gave me chills. I've been on edge ever since."
So the tenants of Unix Mansion did what any savvy supernatural hosts would do: they took out an ad on Craigslist. They're offering $1,000 for the successful removal of the unpleasant poltergeist from the premises.
Many compassionate souls have surfaced in response to the ad. Suggestions have ranged from cheerful singing to leaving lights on to spiritual ceremonies involving energy purification. One paranormal expert said his team would be able to remove the "god-awful undead goon" from the house, but first the mansion's residents had to go out of town for a few days and "leave money for Pay-Per-View."
Despite the outpouring of suggestions from people who've experienced their own lingering spirits, the residents of Unix Mansion are still searching for the right ghost hunter who can help them with their unique situation.
Said one resident: "We're not interested in going into the Haunted Mansion business."
# # #