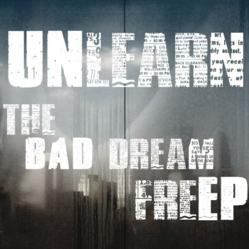 Miami, FL (PRWEB) February 07, 2013
Hip-hop artist UnLearn has released "The Bad Dream EP." The 8 track project, presented by Coast 2 Coast Mixtapes, is now available for download. The mixtape features UnLearn with an appearance by Jazmine Sullivan.
UnLearn is an emcee, poet, actor, and activist from Washington Heights, New York. He is known for his ability to grab listeners attention with a delivery inspired by messages of deep lyrical content. Using his experiences coupled with situations in urban America, he articulates the emotions, triumphs, and tragedies of the American Dream into his music.
Since high school, UnLearn has participated in talent shows, open mics, live performances, and has sat in late night studio sessions with artists like Fat Joe and the late Big Pun. In 2003, he joined the Lyricist Lounge Club Tour where he opened for the group Boot Camp Click, Young Bloodz, Dead Prez, Killa Mike, Killa Priest, and Big Daddy Kane.
In 2005, he moved to the Bay Area, California after being evicted from his New York apartment. This experience allowed him to develop a new maturity in his music. During this time, he released the mixtape "Confessions of A Dangerous Mind" which defined UnLearn's sound and led to him being featured in hip-hop magazines and blogs.
To date, UnLearn has worked with Skyzoo, Sir Michael Rocks of The Cool Kids, Sha Stimuli, Domingo, Wordsmith, and Donny Goines. He has a weekly podcast, social network ItzAllAHustle, and urban alternative news website. UnLearn wants to create his own niche in hip-hop as the next great thinker. His brand is built based on combining the thoughts of Malcolm X and Martin Luther King with Tupac, Nas, and KRS-One.
UnLearn will be releasing his debut album "The Wake Up Call" sometime this year. He has released several singles off the album including "Hunger Games (Black Hoodie Rap)" and "Somebody/Someone" which are both available on iTunes. Keep up with all UnLearn updates by following him on Twitter.
About Coast 2 Coast Mixtapes
Coast 2 Coast Mixtapes are the most widely distributed mixtapes in the world, with over 100 million downloads/plays generated by over 200 volumes officially hosted by major artists. Coast 2 Coast has a solid reach in the new music industry with a digital magazine, DJ coalition, industry tips blog, yearly convention, and more. Coast 2 Coast Mixtapes represents a unique opportunity for artists of all urban genres, from major to indie. For more information, visit http://www.coast2coastmixtapes.com.
###