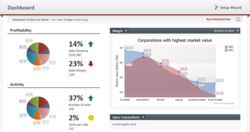 The immediacy of the information you get from the new dashboard is a fantastic tool to assist our clients improve their stock control resulting in better cashflow.
-Rhys Roberts
(PRWEB) May 23, 2012
Unleashed has launched their new inventory management system revolutionizing the way businesses use and navigate through their daily tasks. The worldwide roll out of the new system gives users quick access to everything they need to run their inventory in an online system, in a beautifully presented multi task, multi browser environment" Gareth Berry (CEO) of Unleashed said.
The new system builds on a very functional inventory management solution that seamlessly integrates with other online applications such as Xero and Magento. The new functionality introduced in the latest update is based on extensive research of customer use, feedback and collaboration with accountants and CFO's to ensure the new design incorporates access to important financial information to encourage timely and accurate business decisions.
Guy Pearson of Interactive accounting says, "We loved Unleashed as an online inventory solution for our customers, and this most recent release takes the application to a whole new world of functionality and usability".
At Interactive Accounting we focus on ensuring that each client uses a dedicated "engine" by which to measure their gross profit, we're proud to say, that Unleashed is Interactive Accounting's chosen platform when it comes to inventory and a part of their suggested E-tail/E-Commerce solutions in Australia and North America says Pearson.
Neogen is another solution partner for Unleashed with a staff of 8 and over 200 SME users around Australasia. Adam Holland the Managing Director for Neogen commented "It's great to have such great feedback from our customers on the new Unleashed system. We are getting feedback from our customers saying "Sexy UI" and "easy to navigate ". We have given Unleashed a lot of feedback from our early adopters and the new release has incorporated almost everything we have recommended. It is great to be working with a company that is listening to the existing users. What we now have is a clean, easy to use interface with incorporated workflow and the dashboard is near perfect.
Rhys Roberts from Viridity in Sydney says, "I have a number of clients running Unleashed. My SME clients love it - very easy to learn and lots of great features to help them both run their business more efficiently and manage their inventory. The immediacy of the information you get from the new dashboard is a fantastic tool to assist our clients improve their stock control resulting in better cashflow.
Interactive accounting in Sydney have been busy hiring new staff to champion the add-on products to Xero with the new dedicated Unleashed resource at Interactive Accounting, Jeri Murphy, who goes by the name "Coach". We are striving to ensure that clients get the right assessment, setup, training and support across platforms in the Xero ecosystem. As Jeri puts it "Interactive Accounting is on a mission to connect businesses and streamline business flows. We want our customers to scale with ease and expand without needing extra process driven personnel for accounting."
"We wanted to go well beyond just layout when designing the new Unleashed system" says Berry. We interviewed a lot of customers and partners and collaborated their feedback to produce an inventory management tool that customers love to use, and gives quick and easy access to the most fundamental data within the system. When Unleashed asked Guy Pearson what business owners want to see from their dashboards, he didn't hold back. "Unleashed holds a massive amount of valuable data that businesses want to access easily., "The new dashboards in Unleashed have delivered a great starting point for this functionality and I know our customers will love it and ultimately be able to make better business decisions as a result."
We always listen to feedback from our customers, so rest assured we are not settling on just what's in this release, this is just step one. Says Berry. We showed Guy our plan to build out reporting dashboards and he was... well, stoked. "We are really excited for their next release which will make the dashboarding and reporting inside Unleashed even more user friendly, intuitive and most importantly, more powerful.".
Unleashed is a leading SaaS inventory management system with thousands of users in over 50 countries around the world. Based in Auckland, New Zealand Unleashed have partnered with Xero and Magento as well as other integration partners to provide easy to use end-to-end sales and management solutions for small to medium business. You can find out more on their website http://unleashedsoftware.com