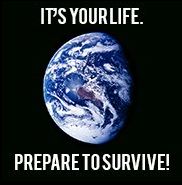 Whether readers need wilderness survival tips or strategies to plan for an urban disaster, SurvivalLife.com covers it all.
Austin, TX (PRWEB) April 06, 2013
The most recent Survival Life Newsletter has been published by Managing Editor 'Above Average' Joe, complete with informational articles from himself and contributors.
The main article comes from Joe and focuses on the lost art of the wet shaving with a safety razor. After finding disposable razors too expensive, Joe ventured out to find an alternative method. His research proves his reasoning: "The math alone makes this a completely logical investment, as long as you learn how to use it properly," Joe wrote.
"Wet shaving may not be for everyone, but it is a great skill to have," wrote Joe. "The two main things you need to concern yourself with are the initial cost of purchasing the supplies and whether or not you are willing to dedicate the time required to do a full shave."
The Survival Tip of the Day article was contributed by Jim Dalton, who shares six simple tips to protect mail and mailboxes.
"When it comes to vandalism," wrote Dalton, "there is not a greater item at risk than your mail box. It stands right outside the house, almost on the road and is the perfect target for vandals. People can easily steal your mail, which might include important documentation or checks."
Dalton suggests smart mailbox materials, locations, and surveillance tips that will help anyone secure their mail and feel confident they are keeping their correspondence safe.
The Practical Prepper section of the Newsletter was written by Joe and features his thoughts on the wastefulness of Americans who don't realize the potential of the food they have on hand.
"Even if you don't have any emergency survival food stored away," Joe wrote, "the average American has between 3 and 14 days worth of food stored between their fridge and pantry and so much food is wasted each year simply because we don't use it."
Joe shares some ideas on making the most of a fridge, even if it appears to be full of nothing to eat. "The real key to fixing this problem is to realize the full potential of everything you have on hand," he said.
SurvivalLife.com is a non-politically biased source that is geared toward the survival side of prepping. Subscriptions to the Newsletter bring all of the latest information from SurvivalLife.com straight to readers' inboxes.
Whether readers need wilderness survival tips or strategies to plan for an urban disaster, SurvivalLife.com covers it all. Well on its way to becoming a preeminent member of the survival blog-o-sphere, SurvivalLife.com is contributing to the conversation and hopes readers do as well.