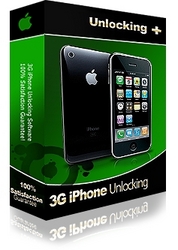 Manchester, Lancashire (PRWEB) August 28, 2009
iPhone Unlocking Ltd were formed just days after the release of the first generation iPhone (2G).
Since their launch they claim to have unlocked over 1 million iPhones worldwide. Their latest release which will enable "any" iPhone owner to unlock their handset for use with any network provider worldwide, can only help to increase those figures dramatically.
According to recent research it is no suprise that companies like iPhone Unlocking Ltd are thriving in the marketplace due to the restrictions that Apple have placed on the iPhone and also the extortionate contracts the customers have to sign up to in order to get their hands on one. Many consumers are reportedly unhappy.
It is becoming a popular decision to purchase the iPhone from marketplaces such as Ebay and then unlocking the phone from home using applications such as the one iPhone Unlocking Ltd are offering.
Upon purchasing and executing the application from iPhone Unlocking Ltd the iPhone itself will function in exactly the same way as the factory iPhone, features such as downloading music, applications, videos etc will not be a problem. Another outstanding feature from the application is the ability to relock the iPhone at any time which will restore the iPhone to factory settings, therefore keeping the Apple warranty completely intact. Should you ever need to return the iPhone to the store.
Along with the iPhone Unlock Software you will also receive free updates and support for life. The iPhone Unlocking team are available 24 hours a day via Email, Live Chat and by Phone. They are always happy to answer any queries.
If you are looking to Unlock iPhone 3G or Unlock iPhone 3Gs you may need look no further. iPhone Unlocking Ltd are a company with experience, longevity and integrity.
###