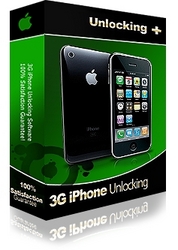 Manchester, LA (PRWEB) March 15, 2009
IphoneUnlocking.com have now produced an extremely easy to use iPhone unlock software, which will ensure the successful unlock of all iPhones.
iPhoneUnlocking.com was established in mid 2007 when the iPhone was first launched and sice this date they claim that they have successfully unlocked over 1 million iPhones worldwide. Very impressive.
With this brand new "one click" iPhone Unlocking software, iPhone owners can unlock the iPhone with extreme ease and in under five minutes.
With this amazing new iPhone unlock Software the iPhone is opened up to a whole new world of features and applications not available on the factory iPhone. MMS Messaging, Video Recording, GPS navigation, to name just a few.
The iPhone unlocking software is capable of unlocking all iPhones, from the 2G 4GB v1.0.0 to the latest 3G 16GB v2.2.1
Unlocking the iPhone will not affect any of the standard features or functionality. The process is completely safe and fully reversable.
iPhoneUnlocking.com offer full technical support via phone, live chat and email. Their support team are on hand 24 hours a day to assist you. iPhone Unlocking also offer a full money back guarantee on all orders of their software.
The iPhone Unlocking software will unlock your iPhone in three very easy steps:
1. Connect the iPhone to a computer
2. Launch the software
3. Click the "Unlock Iphone" button
The iPhone will now be unlocked
The whole process will take under five minutes to complete, and is accomplished very easily and with no hassles or worries. This is the simplest iPhone unlocking software on the market today, and anyone can easily take advantage of it today for a very reasonable price.
###