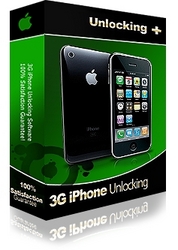 (PRWEB) August 21, 2009
IPHONE UNLOCKING LTD are ruling the world of iPhone Unlocking. They have kept in mind the conveniences of the users and therefore have developed the easiest and safest iPhone unlocking software on the market. iPhone Unlocking Ltd are also proud to say that since their launch in August, 2007, their software has been downloaded by more than one million customers worldwide located in over 145 countries, and still counting. Their Unlock iPhone Software is compatible with all generations of the iPhone including the latest iPhone 3Gs up to the latest firmware version 3.0.1.
What's' more exciting - The solution also has the amazing feature of enabling the user to relock their iPhone to ensure that the warranty on the iPhone remains valid. This is an unparalleled feature compared to other service providers. If you want to avail the jailbreak facility, simply select the jailbreak option from within the software. The software also unlocks iPhones with beta firmware versions. Unlocking the iPhone is absolutely seamless and safe, with no hazardous risk of bricking your iPhone.
Unlocking Apple's firmware version 3.0.1 was not possible until recently. It was only supported for iPhones operating on AT&T's service, but now, iPhone users hooked to any other service provider "worldwide" can also unlock the iPhone 3.0.1 with this amazing software. Our breakthrough technique to unlock iPhone 3.0.1 has introduced an additional debugging functionality that is not available with any other software solution. The text messaging bug has also been resolved and also the very short battery life issue has been resolved that many iPhone users have been experiencing recently.
We are 100% confident in the performance and safety of our iPhone Unlock Software. So much so, that we are offering a 100% full-money-back guarantee on all orders. If our product fails to perform and you are displeased in any way, we will refund you the cost in full, no questions asked!
We are available 24/7, 365 days per year via email, live-chat and phone. Should you require any assistance regarding the iPhone and unloking the device please feel free to get in touch.
# # #