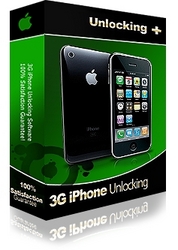 (PRWEB) April 5, 2009
The iphone 3G is the iconic symbol of this generation as far as mobile phones are concerned. Apple's standard bearer product boasts a sleek design and features to drool over. However one grumble many iphone 3G owners have is the limited options of networks. One option is to unlock the iphone, but many services offering unlocking facilities affect the functionality of the iphone and limit some of the features, due to the nature of the type of unlocking procedure. What is required is an iphone unlocking service that keeps the iphone functioning in exactly the way it should with no loss of service or functionality including unlocking the latest 2.2.1 update, that's where iPhoneUnlocking.com comes in!
The popularity of the unlock iphone 3G option from iPhoneunlocking.com, is down to a simple premise, in that the unlock procedure offered in no way affects the functioning of the iphone, which means that the iphone can be used with full feature functionality including 3G Data network and GPS and also ensures no signal loss, as occurs with other unlock solutions. Also this unlock iphone method is a safe and reliable way to fully unlock iphone 2.2.1 which is the latest incarnation with the updated baseband 2.30.03 and all other versions of the iphone for use with any SIMcard and any carrier.
For iphone owners, the cost of the iphone deters some from unlocking services due to the problems that can be associated with some of the unlocking solutions and the loss of functionality and features. The solution provided by iPhoneUnlocking.com, is completely safe and 100% reliable, and does not affect the iphone's functionality, because quite simply it does not involve accessing the internal software or hardware of the unit. Intrigued?
Then visit iPhoneUnlocking.com for the best solution for unlocking any iphone, who are so confident of their solution they offer a full money back guarantee, if not completely satisfied.
# # #