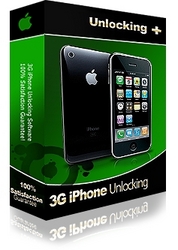 The Apple iPhone is a fantastic piece of technology, but that doesn't mean it's perfect.
Manchester, United Kingdom (PRWEB) January 25, 2009
Manchester based UK entrepreneur Mark Scott and his team of software developers have launched their new 3G iPhone Unlock software, giving iPhone customers the chance to use their handsets with any network provider worldwide and also enabling the use of third party applications.
The development of this software comes after complaints from prospective customers regarding the handset being exclusively available on the o2 and AT&T networks, depending on the country of origin. Also, customers were disappointed to find that the phone lacked standard features such as MMS, video recording and instant messaging amongst others. The contemporary 3G iPhone unlocking software which also enables all of these features comes with full 24 hour customer support via Email, Live Chat and by Phone.
All iPhone owners, both 2G and 3G can access this software online in minutes. The software solution will enable the use of any network provider worldwide, along with all of the features mentioned above and more, all in under just 10 minutes. This revolutionary software was designed specifically for Apple technology and is distributed via the UK based innovative team at iPhoneUnlocking.com
"The Apple iPhone is a fantastic piece of technology, but that doesn't mean it's perfect." Mark Scott, Company Director of iPhone unlocking Ltd. "Using our 2G and 3G iPhone unlock software, the iPhone becomes compatible with all GSM network providers worldwide and enables the use of thousands of great 3rd party applications, therefore making the iPhone arguably the best mobile handset available on the market today."
iPhone Unlocking Ltd were one of the first iPhone Unlocking companies on the scene, forming in late 2007. Since their launch they have unlocked over 1,000,000 handsets worldwide. All solutions sold are backed up with a lifetime guarantee. This includes free updates of their iPhone Unlocking solution along with lifetime support from their extremely experienced support team.
iPhone Unlocking Ltd.
Manchester, UK
Unlock iPhone 3G
###