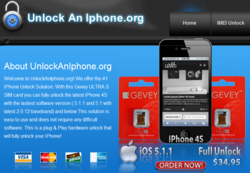 (PRWEB) September 29, 2012
The launch of iPhone 5 has come as a delight for all Apple phone lovers. People having sufficient money are shifting to iPhone 5 after selling their used phones or by returning them to their network service providers. Telecom companies are now offering new iPhone 4 and 4S for cheap prices, so the market is saturated with used, refurbished and cheap new iPhone 4 and 4S (Source:forbes.com/sites/erikkain/2012/09/27/forget-the-iphone-5-now-is-the-perfect-time-to-buy-an-iphone-4s/). With this sudden demand for iPhone unlocking service, Unlockaniphone website now offers IMEI unlocking.
All new and old iPhone 4/4S users can get iphone 4/4S IMEI unlock from http://www.unlockaniphone.org/112-2-3-2.html. It provides accurate and 100% reliable iPhone 4/4S IMEI unlock services. This company offers 100% money back guarantee in case the phone doesn't get unlocked. iPhone 4/4S IMEI unlock was never easier before, as interested people just need to give their device IMEI number for getting their iPhone unlocked. The response time is between 0 to 48 hours.
The team behind UnlockAniPhone website consists of passionate experts in phone unlocking. They have a crush on iPhones since the day the very first iPhone was launched. Years of experience have improved their skill level and now they are able to unlock all iPhone versions from iPhone 2G to the latest iPhone 5. They treat all IMEI unlock requests with due care and send the right unlock steps to their valued customers.
iPhone 4/4S IMEI unlock service is simple. A user just needs to provide his or her phone's IMEI number to the team, and then he or she will receive an email. The iPhone 4/4S then can be connected to iTunes software for completing the whole unlock process. Users will be able to see a message notifying device unlocking at end of the whole process.
The best things about IMEI or factory unlock provided by the website are:
1) It is permanent, even if OS is upgraded
2) It doesn't void Apple warranty
3) It doesn't limit handset functionality
4) iPhone 4/4S starts working on all GSM networks
It is difficult to locate a good iPhone 4/4S IMEI unlock service. People can use the permanent unlocking service from Unlockaniphone website.
To unlock an iPhone, visit http://www.unlockaniphone.org/112-2-3-2.html.