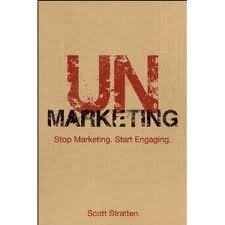 London, ON (Vocus) September 2, 2010
@UnMarketing has announced that Scott Stratten, author of UnMarketing: Stop Marketing. Start Engaging., will appear at the Delta Armouries in London on November 23, 2010. Stratten, an expert in social media relationship building, has over 62,000 Twitter followers on his popular handle @UnMarketing and is the founder of UnMarketing.com.
The London event will be co-hosted by new media marketing consultant and speaker Melissa Lierman (@timeoutmom, @locallondonlife, @ILoveAuthors) and speaker and corporate trainer Allison Graham (@AllisonDGraham).
Who: Scott Stratten – Top Tweeter and Author of UnMarketing
What: Book Signing and Networking Event
When: Tuesday, November 23, 2010, 5:00pm – 8:00 pm EST
Where: Delta Armouries, 325 Dundas Street, London, Ontario
Those wishing to attend must register by September 5th, 2010. Registration includes a copy of the book. Visit UnTourLondon.com for registration details.
This event is open to the press and media is invited to attend at no charge. Media wishing to interview Scott Stratten should place requests by contacting event co-host Melissa Lierman at (519) 670-9671.
About Scott Stratten - @UnMarketing
Scott Stratten is the President of Un-Marketing.com. He is an expert in Viral, Social, and Authentic Marketing which he calls Un-Marketing. Over 60,000 people follow his daily rantings on Twitter and was voted one of the top influencer's on the site with over 100 million users. His book UnMarketing: Stop Marketing. Start Engaging. is available in the Fall of 2010 from Wiley & Sons.
About Melissa Lierman - @ILoveAuthors , @LocalLondonLife , @TimeOutMom
New media marketing consultant, speaker, and trainer, Melissa Lierman has helped hundreds of businesses connect with their target markets through the exciting world of new media by offering training in and strategic business development through Twitter, Facebook, electronic newsletters, websites, etc. She is the host of the popular literary program I Love Authors on Blog Talk Radio.
About Allison Graham - @AllisonDGraham
Allison Graham is a business networking and growth strategies expert that works with professionals at all levels, from emerging leaders to senior executives. Through her engaging keynotes, interactive corporate training workshops and private consulting sessions, Allison shows leaders how to hone their business networking skills to grow revenue, create community buzz and find personal fulfillment. She is the author of Business Cards to Business Relationships: How to Build the Ultimate Network .
~ Strategic communications provided by Brand Spoken Communications. ~
###