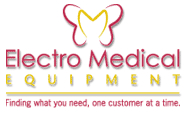 The Gelocast Unna Boot is a medicated bandage that provides gradient compression therapy,
Marietta, GA (PRWEB) April 30, 2012
Electro-Medical Equipment, a leading Physical Therapy Equipment and supplies firm, today highlighted a gradient compression therapy product, the Gelocast Unna Boot as a therapeutic aid in treating sports injuries as well as wound care. The boot enables patients with venous insufficiencies and other minor yet sometimes debilitating orthopedic problems to return to performing normal daily activities while their wounds or injuries heal. The product is saturated in medication to additionally promote recovery.
"The Gelocast Unna Boot is a medicated bandage that provides gradient compression therapy," states Steve Thompson, Sales Manager. "It is one of Electro-Medical's most popular products for controlling venous ulcers, venous insufficiencies and orthopedic strains and sprains," Steve Thompson notes. "Patients and physicians alike appreciate that the bandage is a non-raveling gauze that will mold evenly to the applied limb. Once applied the bandage hardens to become a semi-rigid cast. This provides sufficient pressure to speed healing and allows for the patient to resume normal daily activities such as walking, which is also very beneficial to the recovery process. " Steve Thompson concludes.
In the medical field, an Unna Boot is a long gauze strip, generally 4" by 30'. It's intended to be used in the treatment of sores and/or skin ulcers caused by vein deterioration. The product's even medication delivery system as well as the gentle pressure created when properly applied, work in tandem to provide pain relief and comfort during the healing process.
The Gelocast Unna Boot is also used as a supportive bandage for foot, ankle and lower leg sprains and strains. The gauze is saturated with a thick, non-irritating cream combining zinc oxide and calamine to promote healing. The Unna Boot was created by the German dermatologist, Dr. Paul G. Unna and is frequently used in the treatment of diabetic ulcers as well as sports-related injuries.
The Gelocast Unna Boot is a staple item in many sports physicians' medical kits. Now within minutes of an athlete injuring their foot or leg on the field, a medical professional can wrap the limb with the gauze to create the boot. The gel hardens to provide both compression and medication immediately to reduce swelling and to allow the healing process to begin. This is beneficial as it provides patient comfort and shortens healing time.
Electro-Medical Equipment is the leading provider in table development and innovative therapeutic supplies and equipment. This family owned and operated business has set the standard for therapeutic products for the medical community. Over the past 30 years, Electro-Medical has grown to become the largest independent physical rehabilitation equipment and supplies distributor in the Southeast, while still offering the same superior customer service.